Low-noise overclocking
While we all want a bit more power, long gone are the days of people being happy to endure the whine of a Delta 60mm fan or the roar of a YS-Tech 120mm. Low-noise operation is where it's at.
So, for testing, the fan-controller was set to the lowest speed for all systems fans except that on the GeForce 8800GTX graphics card which is controlled by the card itself.
The Q6700's maximum multiplier of 10x offers a couple of benefits over the 9x of the Q6600. First, it makes it much easier to calculate the overall clockspeed when setting the front-side bus speed. Far more importantly, it also brings down the bus speed required to achieve the desired clock speeds.
With this in mind, testing was carried out first with the multiplier left at 10x. This was then lowered, with the front-side bus increased to compensate, once stable settings had been found to maximise performance.
Even with its voltage set to below the stock setting of the QX6850 sample we previously looked at, the Q6700 is able to breeze to 3GHz.
Setting the multiplier down to 9x and bumping up the front-side bus to 333MHz gives us full-blown Core 2 Extreme QX6850 performance for almost half the price.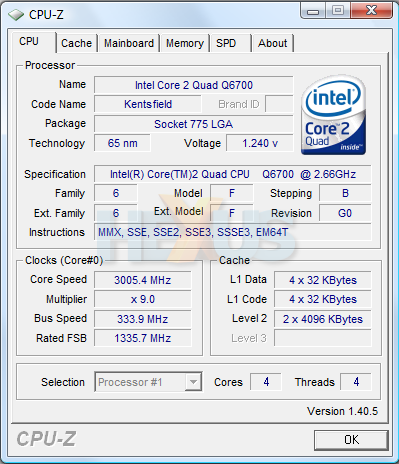 Pushing further, we were able to get to a stable 3.4GHz at 1.4V, with four instances of Prime 95 completing a 12-hour stability test.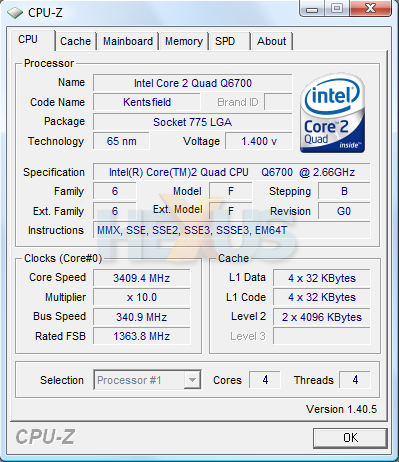 Next, we dropped the multiplier to 8x and increase the front-side bus to 425MHz (1700MHz QDR). This kept the core frequency at 3.4GHz but increased the bandwidth between the CPU and northbridge.
3.5GHz was achievable with a slight voltage increase. However, doing that pushed the temperature past 80C - above what we'd deem an acceptable level. Turning the fans up to full speed did bring the temperature back under 80C but resulted in noise levels that were too high for everyday use.