Evolution or revolution?
Powering down
In addition to the 22nm transition, Ivy Bridge has a couple of other power-saving enhancements up its silicon sleeves. These include support for low-voltage DDR3 (DDR3L) in all mobile SKUs, options for lower system agent operating voltages in ultra-low-power parts, and DDR3 power gating; enabling parts of the memory interface to be disabled when in deep C-states.
All Ivy Bridge processors also feature Power Aware Interrupt Routing (PAIR). This latest acronym encourages the CPU to route interrupt requests for optimum performance or power efficiency, with one or the other defined by a Model-Specific Register (MSR). In performance mode, the CPU would send route interrupt requests to idle cores - forcing them to wake - whereas in power efficiency mode, the requests would be sent to active cores at the expense of optimum performance.
And the power-efficiency enhancements don't stop there, as certain mobile Ivy Bridge processors will ship with a configurable TDP.
Applicable only to Ultra-Low Voltage (ULV) and Extreme Edition (EE) mobile parts, this new feature allows a processor to dynamically scale across three TDPs. For an Ivy Bridge ULV part, the nominal 17W TDP, for example, would be flanked by a low-power 13W 'TDP Down' state, and a 33W 'TDP Up' state.
Exactly how OEMs will choose to implement configurable TDP remains to be seen, but it's a development we'll be watching with interest.
New HD graphics; a bit of tick, a bit of tock
Ivy Bridge, thus far, has felt very much like a Tick in Intel's timeline - it is, in more ways than one, a Sandy Bridge chip built on a new 22nm process node with a couple of key refinements.
But there's an area in which Intel argues against its own yearly cadence; integrated graphics. According to the manufacturer, the IGP featured in Ivy Bridge processors has been improved to such an extent that its development is better described as Tick+.
So, what does Intel's latest and greatest IGP have to offer?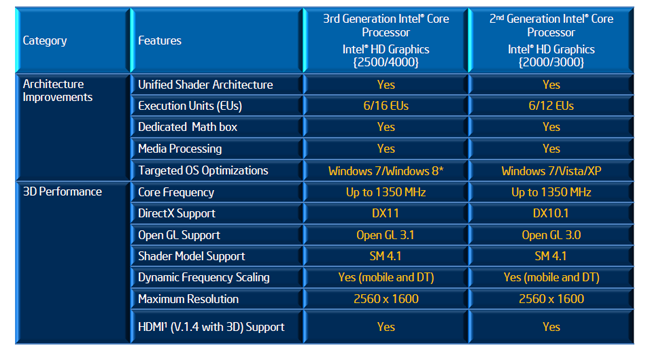 Looking at the overall feature set, we can see that the Ivy Bridge IGP - packaged as Intel HD 2500 or HD 4000, depending on processor model - is a good step up from previous-generation Sandy Bridge.
The top-level HD 4000 IGP sees the number of execution units (a.k.a. shaders) jump from 12 to 16, representing a 33 per cent increase, but the second-rung HD 2500 IGP (featured in most mainstream desktop parts) will continue to offer just six execution units, in keeping with Sandy Bridge's HD 2000 component.
And there's no increase in core operating frequency, either. In fact, while both Ivy Bridge IGPs are officially capable of running at up to 1,350MHz, the higher speeds will be reserved for mobile parts, with desktop processors opting instead to run at a maximum graphics frequency of 1,150MHz - technically slower than the Sandy Bridge equivalents.
In order to make up for this perceived inadequacy, the Ivy Bridge IGP is armed with a wave of internal upgrades that include support for OpenCL 1.1, DirectX 11 and OpenGL 3.1, all of which allow Intel to achieve feature parity with what's been available from rival AMD processors for quite some time.
It's taken a while, but Intel's making steady strides in the graphics department, and it's doing so by making the IGP more efficient. In addition to adding hardware tessellation through a hull shader, a domain shader and a fixed-function tessellator, the Ivy Bridge IGP introduces faster clearing of render targets to improve Hi-Z performance, an increase in the number of threads and registers to compensate for latency, and the ability to co-issue floating-point multiply-adds (MADs), effectively doubling throughput in certain areas.
On top of all this, the built-in Wireless Display technology has been bumped up from version 2.0 to 3.0 (it now touts lower latency and dual-monitor support), Quick Sync video transcoding performance is said to have seen a 2x increase, and the number of supported displays has jumped from two to three. The latter makes this the first Intel processor to natively power three displays using only integrated graphics.