Benchmarks: Power Consumption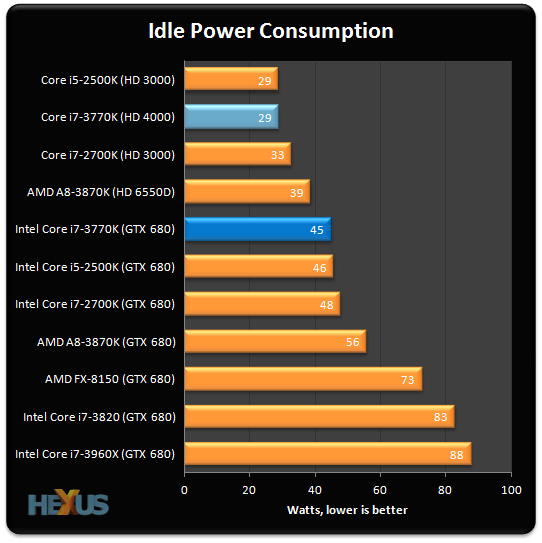 We've seen small bumps in CPU performance, a healthy jump in GPU performance and a sizeable increase in Quick Sync performance. Now it's time for the 22nm process to tie it all together with class-leading power consumption.
As expected, the Core i7-3770K is more efficient than the previous-generation Core i7-2700K. Looking at system-wide power consumption, it enables our test platform to idle at 29W when configured with the IGP, or 45W when armed with a GeForce GTX 680.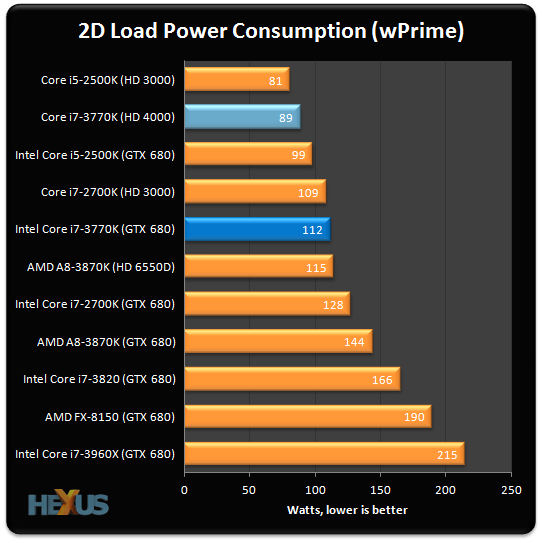 The under-load numbers are just as good. With the Core i7-3770K running flat-out in the wPrime benchmark, system-wide power consumption is 18 per cent lower than than Core i7-2700K.
For reference's sake, we're showing power consumption in both the IGP and discrete GPU configurations for all processors with integrated graphics.
And even if you're gaming, the Core i7-3770K's power efficiency shines through. With a GeForce GTX 680 in tow, it keeps power consumption down to 217W - that's less than a Core i5-2500K system in the same scenario.
It's a gentle nudge in the right direction compared to Sandy Bridge, but it's enough to make Sandy Bridge Extreme and AMD FX look very, very power hungry in comparison.