Turbo CORE
AMD's on-the-fly performance boosting technology, dubbed Turbo CORE, makes its debut in today's hexa-core Phenom II X6 CPUs and aims to beef up the value proposition of AMD's range-topping parts.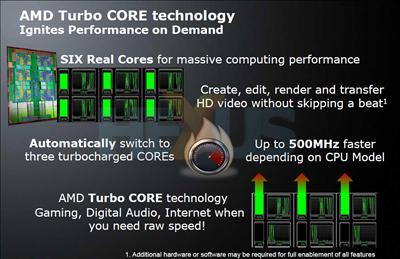 On paper, it seems identical to Intel's Nehalem Turbo Boost - promising to automatically increase the frequency of certain CPU cores to improve performance when other cores aren't needed.
Sounds a good idea, but AMD's Turbo CORE implementation isn't quite as elegant as Intel's Nehalem. AMD's current architecture doesn't feature an equivalent to Intel's power gate technology, and the company's chips are consequently unable to shut down cores as and when required.
In order to remain within TDP constraints, AMD Turbo CORE will instead dynamically down-clock idle cores to allow room for the remaining cores to be sped up.
Putting numbers to what seems like a simple process, a six-core Phenom II X6 part with at least three idle cores is deemed to be "boost-eligible", and the chip will reduce the speed of those cores to 800MHz, allowing for a frequency boost of up to 500MHz on the other three cores.
Looking at AMD's new chips, Turbo CORE technology will provide triple-core speeds of up to 3.6GHz on the 3.2GHz-rated Phenom II X6 1090T, whilst the 2.6GHz Phenom II X6 1035T will boost three of its six cores up to 3.1GHz.
The latest release of AMD's Overdrive utility lets you see Turbo CORE in action.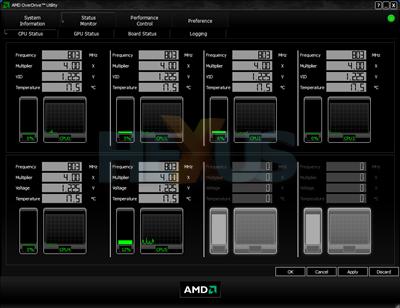 When idle, the Phenom II X6 1090T reduces core speeds to around 800MHz. Nothing to see here.
Crank up a benchmark that utilises all six cores and you see the CPU running at full tilt. As demonstrated by Overdrive, all six cores hit 3.2GHz when stressed.
The theory is that if three or more cores aren't being utilised, the remaining trio will rise up to 3.6GHz courtesy of Turbo CORE.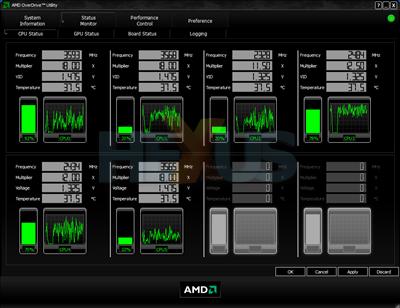 Stressing three cores, we can see that AMD Turbo CORE does exactly what it says on the tin - with three of the 1090T's six cores reaching up to 3,600MHz.
The automatic boost should prove to be useful in single-threaded applications, and looking ahead, users can expect to see Turbo CORE filter through to quad-core parts starting with the upcoming Phenom II X4 960T, codenamed Zosma.
What's useful - and a little bit of fun - is that AMD's Overdrive utility allows the user to adjust the multiplier for both standard and turbo clock speeds with ease.