Introduction
A few years back Coolermaster released the DCD-4002 hard drive cooler. This has recently been phased out to make way for the new Coolermaster Cool Drive 3. These hard drive coolers are extremely popular due to them being very effective.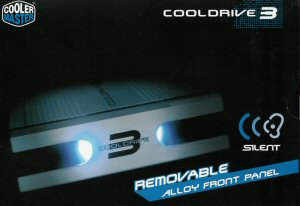 The Cool Drive 3 is basically a large aluminium heat sink that houses your hard disk drive. At the front is a small 40mm fan which helps cool the heat sink and drive. On the new Cool Drive 3 there are 2 blue LED's which illuminate the front bezel to give an elegant appearance to the drive bay. What's good about the Cool Drive 3 is the compatibility of the drive. It can accept all types of hard disks – IDE, SATA, SCSI…

Let's see what improvements Cooler Master have made on the Cool Drive 3 compared to the older DCD-4002 hard drive cooler...