Raspberry Pi's engineering team has unveiled its plans to ship a new customisable system-on-a-stick dubbed a 'Compute Module', later this year. The device will be largely aimed at business and industrial users.
Whilst the Raspberry Pi is mainly used for applications such as media streaming, robotics and as an educational device, after having sold in the millions, the makers found that a "very significant number" of its users were embedding it into systems and commercial products.
"We think there needs to be a better way to allow people to get their hands on this great technology in a more flexible form factor, but still keep things at a sensible price," explained director of hardware James Adams, in a blog post.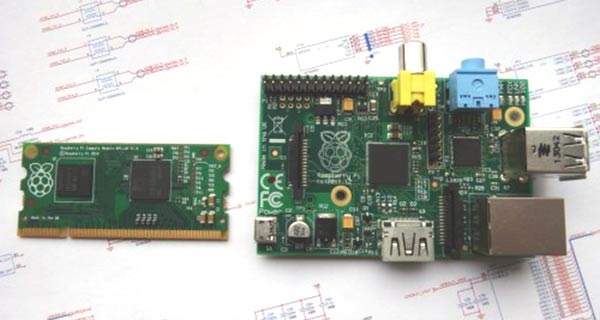 The Compute Module next to a regular Raspi
This is how the Raspberry Pi Compute Module came along. The device is basically an embedded version of the £30 micro-computer that "contains the guts of a Raspberry Pi". All its innards are integrated on to a small 67.6x30mm board that fits into a standard DDR2 SODIMM connector which is the same used for laptops (though users have been warned not to plug it into their laptops as the pins assignments "aren't even remotely the same," and curiosity killed the cat.)
The Raspberry Pi Compute Module features the same BCM2835 processor and 512MB of RAM as the current model, partnered with 4GB of built-in flash storage. It is designed for users to get the full flexibility of the BCM2835 SoC where they are are allowed to use their own PCBs to work with the module, allowing anyone to build their own Pi-powered PC with more functionality than the standard Raspberry Pi.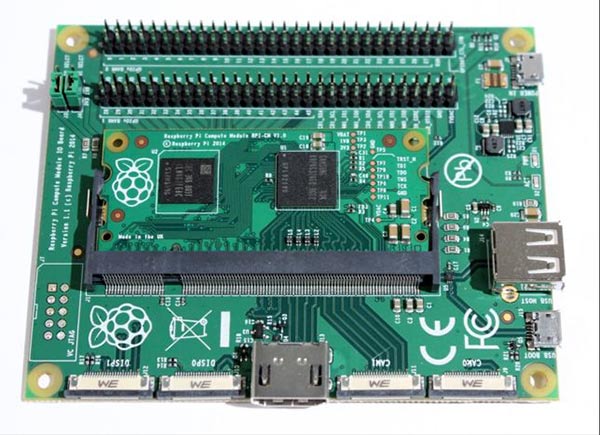 Compute Module I/O board example
To help designers and those who don't have access to a PCB fabricator get started, the team has also developed what they called the Compute Module IO Board, an open-source breakout board that connects to the Compute Module.
"It provides the necessary power to the module, and gives you the ability to program the module's Flash memory, access the processor interfaces in a slightly more friendly fashion (pin headers and flexi connectors, much like the Pi) and provides the necessary HDMI and USC connectors so that you have an entire system that can boot Raspbian (or the OS of your choice)," Adams explains.
The board is said to provide both a starting template for users wanting to design with the Compute Module and a fast way to start experimenting with hardware and testing systems before going through to fabricate a custom board.
The Compute Module and IO board is initially being offered together as the Raspberry Pi Compute Module Development Kit and will be available from RS and element14 from June. The Compute Module will then become available to buy separately with a unit cost of approximately US$30 in batches of 100 and at slightly higher prices individually.