The Raspberry Pi mini-PC will launch in the UK this month, according to the Raspberry Pi Foundation blog.

Powered by Broadcom's ARM-based BCM2835 System-on-a-Chip (SoC) the tiny credit card-sized PC will be available in two models: the entry-level model costs £16 and sports a 700MHz ARM11 processor and 128MB RAM memory, one USB port and no Ethernet controller, while a more expensive model, costing £22, features 256MB RAM memory, two USB ports and a 10/100 Ethernet controller.

The Raspberry Pi is a tiny 85.60mm x 53.98mm computer that plugs into your TV and keyboard and can be used for many of the things that your desktop PC does, like word-processing, playing games and watching high-definition videos. Its real value, however, lies in its low cost which means that people from all over the world can use it to learn programming.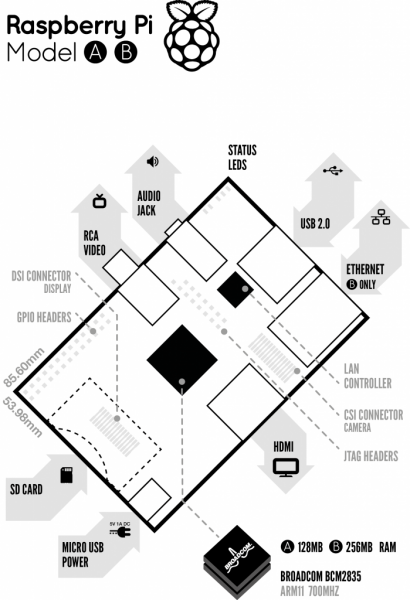 Interest in Raspberry Pi has spiraled since the charitable foundation first announced the project and plans for its use have gone far beyond what was initially intended.

"

We've had enormous interest, support and help from the educational community, and we've been delighted and a little humbled by the number of enquiries from agencies and people far away from our original targets for the device

," writes the UK charity on its blog.

"

Developing countries are interested in the Raspberry Pi as productivity devices in areas that simply can't afford the power and hardware needed to run a traditional desktop PC; hospitals and museums have contacted us to find out about using the Raspberry Pi to drive display devices. Parents of severely disabled kids have talked to us about monitoring and accessibility applications; and there seem to be a million and one people out there with hot soldering irons who want to make a robot.

"

In addition to news of Raspberry Pi's release, the foundation has also produced a datasheet detailing the ARM peripherals in the chip.

"

If you're a casual user, this won't be of much interest to you,

" it writes "

but if you're wanting to port your own operating system or just want to understand our Linux kernel sources, this is the document for you

."

The PDF can be download here.

For more details on the The Raspberry Pi Foundation check out the official website.