Edging forward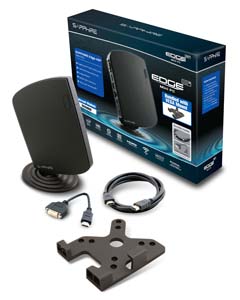 Sapphire has updated its EDGE mini-PC adding a faster Atom processor, and offering Windows 7 pre-installed and dubbing it the EDGE-HD2.
The EDGE was apparently "hailed as the smallest PC" - a claim not made of the EDGE-HD2, but at 193mm x 148mm x 220mm it's certainly not a large system. The EDGE-HD2 can be mounted either on a stand, or using VESA attachments; letting it be fixed behind a number of monitors, hiding it from sight.
The EDGE-H2 features a dual-core, 1.8GHz Intel Atom D525 CPU, 2GB of DDR3 RAM and a 250GB hard drive. The system is built on top of nVidia's ION 2 platform, so although the graphics performance won't be amazing, it the EDGE-HD2 should be able to cope with undemanding games.
In fact, the performance of the EDGE-HD2 isn't going to be much different from other ION 2-based systems, as the only differentiator between them is which Intel Atom processor they use. As such, the key 'feature' of the EDGE-HD2 is its provision of Windows 7, which should prove a compelling advantage versus rival alternatives running Vista.
Sapphire hasn't announced pricing itself, which will be left up to resellers. Given the relatively modest components inside it, the EDGE-HD2 isn't likely to be too expensive, though.