Refreshing its iMac line-up today, Apple has announced what it calls the first desktop system - adopting Intel Thunderbolt technology - to hit the marketplace.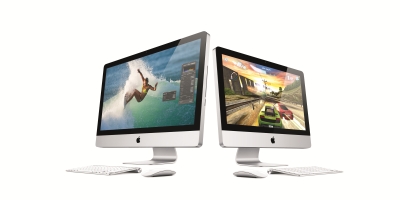 With pricing starting from £999 upwards, including VAT, it isn't just Thunderbolt technology trying to capture your attention. Apple tells us that its refreshed iMac is apparently up to 70 per cent faster, and delivers up to three times the graphical oomph of its last-gen predecessor.
Available in 21.5in (1,920x1,080) and 27in (2,560x1,440) models, Apple's latest iMac can be kitted out with quad-core Intel Core i5 or i7 CPUs - with speeds ranging up to 2.8GHz (21.5in) and 3.4GHz (27in) - plus AMD Radeon graphics, beginning from HD 6750M to HD 6970M powered flavours.
Storage options start from a 500GB (7,200RPM) traditional hard drive, but Apple adds that capacities up to 2TB - and SSD choices - can be made too. Though configurable up to the 16GB mark, standard RAM configuration comes in at 4GB 1,333MHz DDR3.
Apple adds a FaceTime HD camera to the mix and as expected, the refreshed iMac comes with Mac OSX Snow Leopard and Apple's iLife suite.