Sony has today refreshed its range of space-saving all-in-one PCs with the launch of a new VAIO L Series.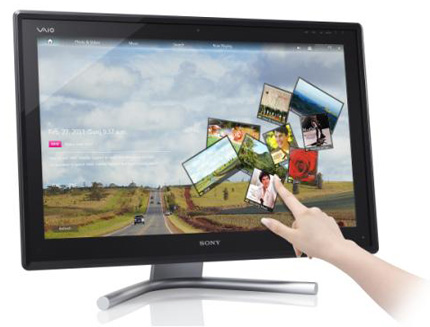 The 24in multi-touch system, pictured above, has been dramatically softened around the edges and - unlike its serious-looking predecessor - is designed to be "ideal for any living space".
Sitting on a tilt-adjustable V-shape stand, the glossy-black Windows 7 machine makes use of a 24in full-HD VAIO Display Plus panel with LED backlighting and a touch-sensitive bezel that surrounds the multi-touch screen with a series of additional shortcuts. The VAIO logo in the top corner, for example, can be tapped to bring up Sony's Media Gallery application, while the left side of the bezel can be stroked to bring up an on-screen keyboard.
Making full use of the 24in display's 1,920x1,080 resolution, the VAIO L can be configured with a Blu-ray optical drive and a choice of Intel Core i5 or Core i7 processors. Graphics are provided by an NVIDIA GeForce GT 540M, and Sony's healthy array of connectivity options include Wireless N, Bluetooth 3.0, USB 3.0, and both an HDMI output and input - the latter's useful if you plan on using the VAIO L as a monitor for other devices.
Lovely-looking machine and Sony tells us it'll be available sometime next month. Mum's the word on pricing, though.