Following a few weeks of rumours and a closure 'for updates' this morning, Apple has brought its online store back up with a bevy of new hardware. The venerable Mac Pro workstation can now be equipped with up to 12 cores and the all-in-one iMacs are getting all new CPU and graphics options.
12-Core Madness
The refreshed Mac Pro is getting a massive power-boost thanks to Intel's latest hexacore processors. The twin-socket workstation can be equipped with up to two six-core 2.6GHz or 2.93GHz Xeon CPU's based upon the Westmere architecture, allowing for a massive 24 simultaneous threads. The systems are also getting a graphics upgrade courtesy of ATI Radeon HD5870 or HD5770 cards. This should provide a significant performance increase compared to the current choice of NVIDIA GeForce GT120 or Radeon 4870 cards.
All-in-one-indeed
As for the iMac, Apple has finally migrated the entire line-up to Intel's latest 32nm-silicon. The base 21.5in model now comes with a 3.06GHz Core i3 CPU, though this can be upgraded to a 3.6GHz Core i5 processor and a Core i7 chip is available in the 27in model. As with the Mac Pro, the graphics cards are getting an ATI-powered boost as the smaller model is now equipped with an HD5670 512MB graphics chip, while the larger model has the option to upgrade to an HD5750 1GB. These new parts should provide a significant boost compared to the outgoing models, especially the 21.5in version. The increase in performance from a GeForce 9400M should make the new model significantly more capable, especially when it comes to games.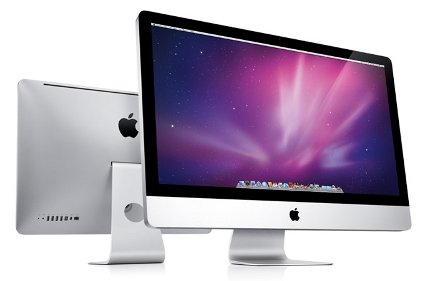 In addition, there are some incremental upgrades, such as allowing the built-in card-reader to recognise high-capacity SDXC cards, the option of larger hard drives or SSDs, and a step-up to DDR3-1333.
The iMac should be available now, though at the time of writing, the UK Apple store seemed to be having some problems with the iMac page. As for the upgraded Mac Pro's, you'll have to wait a little longer, as the new options won't be available until some time next month.