The rumours regarding Apple's somewhat-forgotten Mac Mini are never in short supply, and adding fuel to the fires today is what claims to be a leaked image of a next-gen model.
Discovered in the forums of MacRumors, the blurry-cam image is said to depict a forthcoming revision to Apple's Mac Mini system. It's long overdue an upgrade having been rarely mentioned at recent Apple events, and he/she who provided the image claims the system sports a 2GHz Intel Core 2 Duo processor, 2GB of DDR3 memory and a SATA SuperDrive.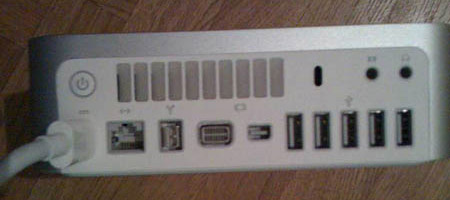 If the image is to be believed, we can expect a revamped array of connectivity options. The supposedly-new Mac Mini could feature FireWire 800, Gigabit Ethernet, Mini DVI, Mini DisplayPort and five USB ports.
It's always easy to be convinced by a leaked image, but we have our doubts. In today's economic climate, it may make sense for Apple to make its Mac Mini a more affordable route into the Apple range. We've had a sneaky suspicion that NVIDIA's ION platform may appear in a tiny Apple system, and the Mac Mini fits the bill.