We thought BEAST Computers' Aphros Reality was the no holds barred extreme PC, but Minnesota's up-and-coming Hardcore Computer appears to have raised the bar with its Reactor.
The US-based startup has only one product currently in development, but it's one that promises to bring liquid-submersion cooling to the mainstream. Reactor, the appropriate name given to Hardcore Computer's extreme system, takes all the latest high-end tech and cools it by submersing it into a yet-to-be-revealed oil that's biodegradable and non-conductive.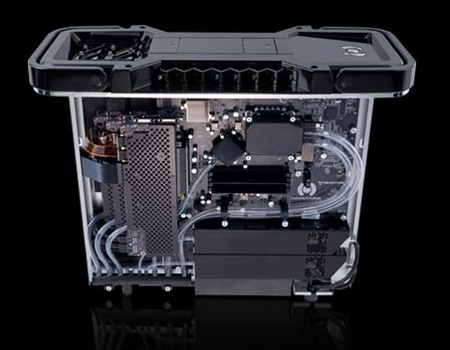 As you'd expect, you can choose from a wide selection of extreme components - including Intel's latest 45nm Core 2 chips, DDR3 memory, NVIDIA's three-way SLI and solid-state drives. Start adding at your heart's content and the price will soon reach toward $10,000, but show some restraint and you'll find prices start at a surprisingly low $4,500.
Hardcore Computer states that Reactor is the world's first patented total-liquid-submersion PC, and promises cooling ability that'll allow overclocking records to be smashed. The Core Coolant absorbs 10 times more heat than air and circulates through a Delphi-certified radiator at 2.5 gallons/minute, it claims.
It's a stunning-looking system that could change the way we look at liquid-cooling in the foreseeable future, but as we're yet to see any real-world performance figures we'll reserve judgement. We've got to admit, though, that we're itching to try one.

Hardcore Computer lists Reactor's estimated shipping date as November 18th - unfortunately, that could possibly be after Intel debuts its Core i7 processors and ultimately makes the Reactor an all-new cooling system filled with last-gen tech.
If you're really thinking of sinking around $5,000, we'd recommend you wait just a few more weeks as we'd expect to see a Core i7 option appear on Reactor's configuration pages in the near future.
Official product page: hardcorecomputer.com