Intel has today launched a new range of SSDs aimed at PC enthusiasts. The Intel Solid State Drive 730 Series is particularly suitable for Gaming, Digital Content Creation and Workstation applications and uses a third generation Intel controller that has been with 'factory tuned' firmware. The drives announced today are expected to ship to customers on 18th March.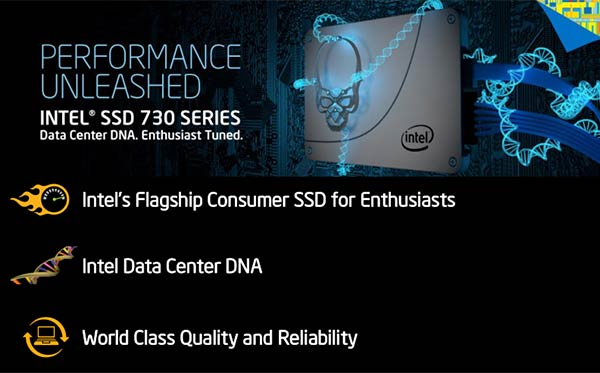 Intel's latest SSD's are claimed to be better and faster, yet remain affordable. The SSD 730 Series is said to use technology gained from Intel's data centre experience 'Data Centre DNA' and also be 'enthusiast tuned' in the factory.
Thanks to its data centre experience Intel claims the new drives offer ground breaking endurance, performance consistency, efficiency and reliability. Intel claims these drives can support 70GB writes per day for five years, compared to the industry typical 20GB. A five year warranty come as standard.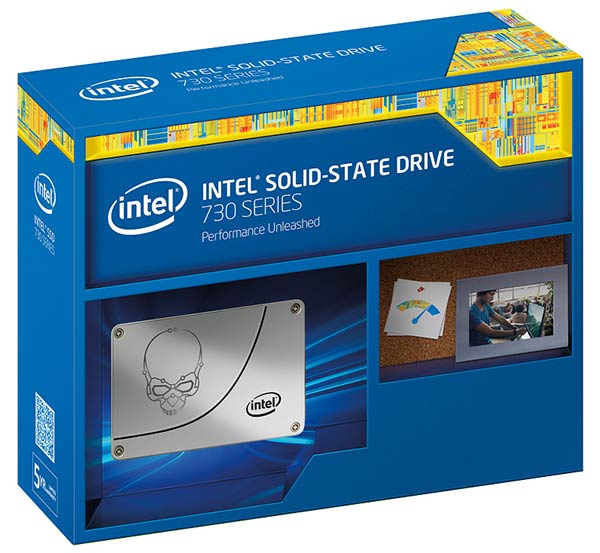 Overclocked firmware
The factory tuned overclocked firmware is said to squeeze a 50 per cent boost in controller speed and 20 per cent increase in NAND bus speed. CNet has already had these drives in its labs and reports that "The controller clock is now at 600Mhz (up from 400Mhz in the previous model), and the NAND bus speed is now at 100Mhz (up from 83Mhz)".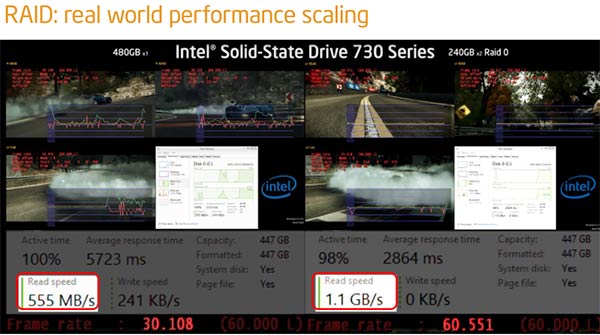 The SATA 6Gb/s interfaced Intel SSD 730 Series are initially available as 240GB and 480GB 2.5-inch form factor 7mm thick drives. Please refer to the table below for full specifications (click to enlarge the chart).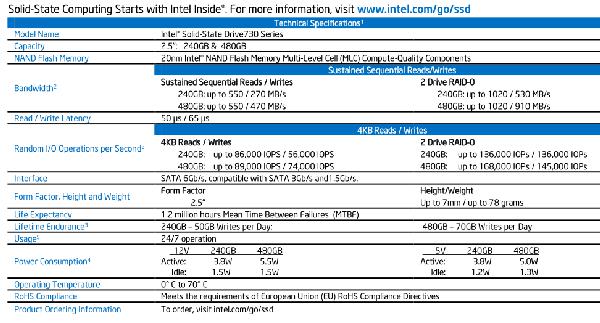 click to zoom and clarify
In its review conclusion CNet says that this new Intel SSD range is more impressive due to its endurance rating rather than its performance. Despite Intel's overclocking of the controller and NAND the Samsung EVO range, for example, is faster and cheaper.
As mentioned in the introduction the new Intel SSD 730 Series will be made available from 18th March. US launch prices are quoted to be $249 for the 240GB drive and $489 for the 480GB drive but prices may well be lower in actuality.