Samsung has started mass production of PCI-Express (PCIe) solid state drives. The South Korean industrial giant says the new range of drives is intended for "next-generation ultra-slim notebook PCs". The new drives use the 80 x 22mm M.2 form factor and weigh only about 6 grams. As well as being very compact these new drives can offer about 2.5X more speed than current SATA based SSD solutions.
Samsung has christened the new lineup of PCIe SSD drives the 'XP941' range. We are told the drives started to ship to systems builders earlier this quarter. So far Samsung has provided notebook PC makers XP941 SSDs in capacities of 128, 256 and 512GB.
Small and mighty fast
The reduced size of the XP941 range will allow Ultrabooks to become even more thin and light or contain larger batteries/other components. The M.2 form factor, chosen for these PCIe drives, measures only 80mm x 22mm, occupying about a seventh of the volume of a 2.5-inch SSD drive. Also these drives are light, weighing approximately six grams, about a ninth of a conventional 2.5-inch SSD unit weight.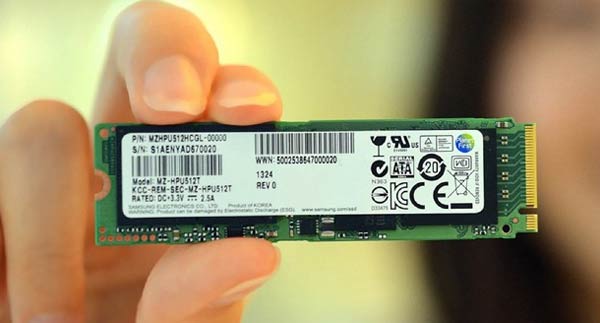 Turning to performance, Samsung says that the "XP941 delivers a level of performance that easily surpasses the speed limit of a SATA 6Gb/s interface". Putting a figure to these speed claims the sequential read performance of an XP941 is said to be 1,400MB/s, equivalent to 500GB transferred in six minutes. For comparison Samsung says this is 2.5 times faster than the fastest SATA SSD and a traditional HDD would take over 40 minutes to complete the same task.
VR-Zone reports that a 'teardown' of the latest updated MacBook Air "showed a similar Samsung made PCIe SSD inside". So Samsung's best buddies in Cupertino may be one of the first companies to launch a computer with one of these zippy new light weight SSDs equipped.