Well known storage technology firm Seagate has launched a plethora of Solid State Drive (SSD) products. The ranges include the Seagate 600, 600 Pro, and 1200 SSD lines. Additionally the Seagate X8 Accelerator was unveiled; this is a flash storage PCIe card with up to 2.2TB of storage, aimed at servers.
Gary Gentry, general manager of Seagate's SSD business, said "By adding more SSDs to our family of hard disk and solid state hybrid drives, we now have the broadest portfolio of storage products in the industry, delivering one-stop shopping for our customers and partners." Gentry promised more; "And we're just getting started. Seagate is committed to becoming a premier supplier of both solid state drives and storage class memory products."
Seagate 600 is aimed at consumers
The Seagate 600 range is the firm's first to be designed for consumers. This drive is of the 2.5-inch variety and is available in a 7mm high, with a 5mm high option for ultra-compact PCs. It sports a SATA 3 6Gbit/s interface which facilitates up to 80,000 IOPS in random access and up to 500MB/s data transfer speed in sequential access mode. The Seagate 600 range is to be initially available in 120GB, 240GB, and 480GB capacities with the entry level 120GB SSD having a recommended retail price of £99. Full drive specifications can be found on Seagate's site here.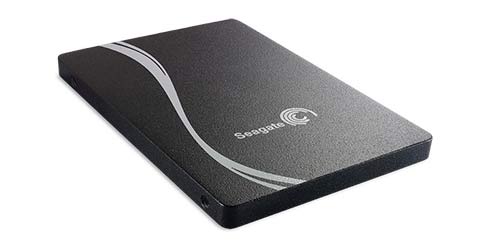 Seagate 600 Pro SSD and Seagate 1200 SSD are aimed at business and enterprise
The Seagate 600 Pro SSD delivers "a best-in-class combination of fast, consistent performance and low power". Seagate describes the 600 Pro series as "an exceptional fit for hyperscale data centres, cloud system builders and cloud service providers". The Pro drives offer the following benefits over their consumer counterparts: power fail protection and lower idle power consumption. You can read more about the spec of these drives on Seagate's site here.
The Seagate 1200 SSD doubles the model number and it features a dual port 12Gb/s SAS interface speed. Seagate says this drive is "designed for applications demanding the highest levels of fast, consistent performance". The drive features a special Seagate-developed controller and an "enterprise feature set". More details and specs are available here.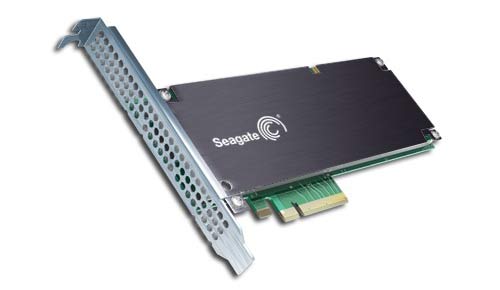 Seagate X8 Accelerator, PCIe Card
"The Seagate X8 Accelerator, powered by Virident, is a PCIe card that dramatically accelerates application and server performance" says Seagate. This add-in card is available in storage capacities from 500GB up to 2.2 TB in a small half-length and half-height PCIe card. Seagate don't have more detailed spec for this card but it is "perfect when you need to have more than 1.5 million IOPS in a single low-profile card." It is listed as being available later in the year.
Tech site Anandtech had a Seagate 600 series SSD in the labs yesterday and called it "a great drive". The only downsides Anand mentioned were the idle power consumption and lack of hardware encryption.