Corsair has announced a new line of SSD drives named the Force Series GS SSDs. In an attempt to push current SSD technology to reap the greatest available speeds the company has chosen the SandForce SF-2200 SSD controller with the fastest NAND readily available, known as Toggle-Mode NAND.
Toggle-Mode NAND is faster than asynchronous and synchronous varieties according to Toshiba, it uses a speedy and "asynchronous interface similar to that used in conventional NAND, the Toggle-Mode DDR Flash NAND requires no clock signal, which means that it uses less power and has a simpler system design when compared to competing synchronous NAND alternatives." Simpler wins the day again.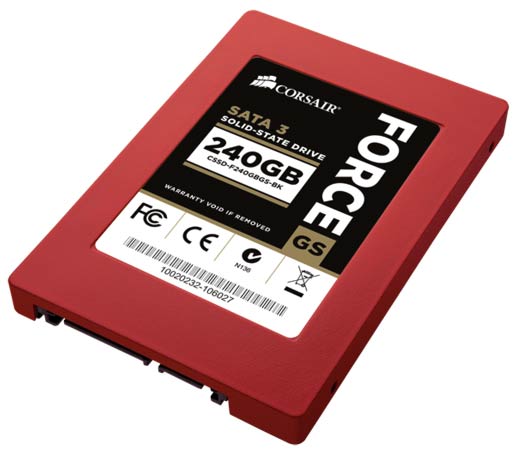 Corsair claims that this controller/NAND recipe is a great performer in benchmarks and in the real world. "Benchmarks are great, but your PC doesn't run on benchmarks. Force Series GS has the scores, and the real-world performance to back it up." Also the PR says Corsair Force Series GS SSDs have no particular performance weaknesses. "Some SSDs are strong performers with sequential read and write speeds, but bog down with random writes. Force Series GS is better. It's great at both."
Since we haven't received one of these Corsair Force Series GS SSDs yet at the HEXUS labs we are glad to find that the Corsair blog has ran a few of our favourite benchmarks upon the 240GB version of the Force Series GS SSD. However I've noticed the Corsair blog ATTO benchmark used a queue depth (QD = the workload of the drive) of 10 rather than our standard setting of 4, perhaps this partly explains the difference in their own figures comparing the screenshots below to the specification table at the bottom of this article. Though QD usually makes more difference with smaller file size read/write performance rather than the 1MB results.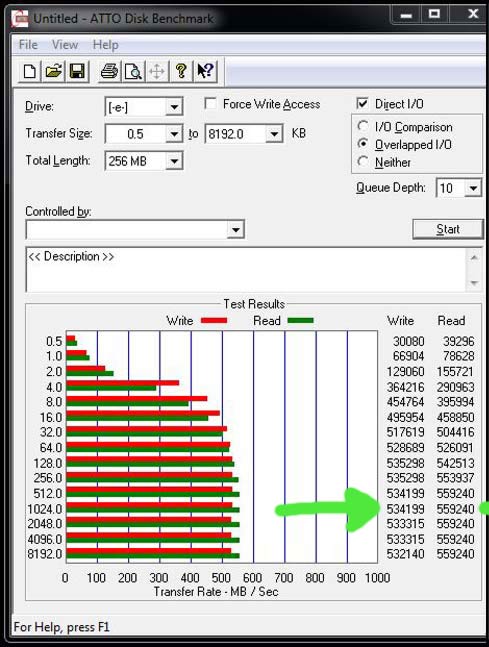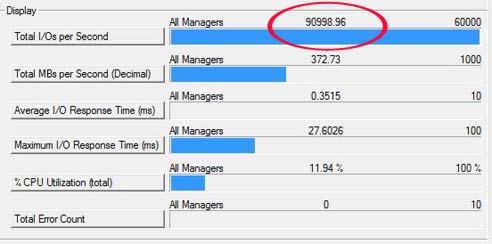 The screenshots above show an ATTO – Sequential Read – 1MB figure of 559.24 MB/s and an ATTO – Sequential Write – 1MB figure of 534.2 MB/s. These numbers marginally beat the SanDisk Extreme SSD 240GB (also uses Sandforce/Toggle NAND) which achieved 1MB benchmark read/write results of 557.9 MB/s and 532.9 MB/s respectively and is at the top of the HEXUS tested ATTO league table. Now turning to the Iometer IOPs performance, this new Corsair drive really stands out by achieving a result of 90,999. The previous leader in the HEXUS Iometer chart was the Intel 520 Series 240GB drive at 79,932 I/Os per second. Corsair has really leapfrogged that one!
The new Corsair Force Series GS SSDs are "immediately available" in the shape of the 240GB version with other capacities; 180GB, 360GB and 480GB coming shortly. Scan currently have them all listed to pre-order with the 240GB version priced at £189.89 including the dreaded VAT.
I have listed the key specs of the Corsair Force Series GS 240GB SSD below:
Warranty

Three years

SSD Unformatted Capacity

240 GB

Max Sequential R/W (ATTO)

555 MB/s sequential read
525 MB/s sequential write

Max Random 4k Write (IOMeter 08)

90k IOPS (4k aligned)

Interface

SATA 6Gb/s

Technology

Toggle NAND

Power Consumption active/idle

4.6W Max/0.6W Max
We will be getting a Corsair Force Series GS drive in the HEXUS labs shortly so it will be going through our usual rigorous testing including checking the ATTO benchmark at a queue depth of 4 to see how the drive responds.