Following the introduction of a beta release utilised by over 10,000 participants earlier this year, Taiwanese network-storage specialist Synology has this week made available the final release of its DiskStation Manager 2.3 firmware.
The update, available for numerous Synology NAS devices, introduces a bevy of new features, including; simplified RAID setup via Synology Hybrid RAID, an EZ-Internet Wizard that assists users in setting up remote web access and the ability to backup data to the cloud in collaboration with Amazon S3.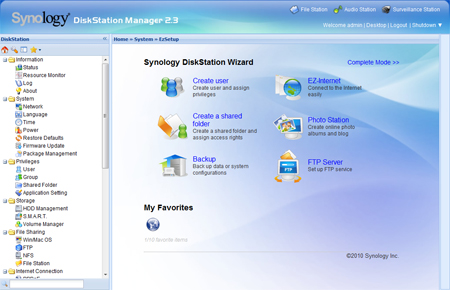 Available as a free update, the DiskStation Manager 2.3 firmware also offers added support for AES 256-bit shared folder encryption, and includes improved versions of Synology's popular File Station 3, Photo Station 4, Audio Station 2 and Surveillance Station 4 applications. Surveillance is also further enhanced via the introduction of a new iPhone App - which now allows iPhone owners to live view their IP cameras, take snapshots and playback recorded footage.
A complete list of DiskStation Manager 2.3 features is available at Synology.com, and those wanting to get a feel for the latest release prior to installation can do so via a live demonstration at demo.synology.com.
DiskStation Manager 2.3 currently supports the following Synology NAS solutions:
DS1010+, DS710+, DS410j, DS210j, DS110j, RS409+, RS409RP+, RS409, DS509+, DS409+, DS409, DS209+II, DS209+, DS209, DS209j, DS109+, DS109, DS109j, DS409slim, RS408, RS408-RP, DS508, DS408, DS108j, RS407, CS407, CS407e, DS207+, DS207, DS107+, DS107, and DS107e.