QNAP has announced that it'll be on hand at next month's CeBIT exhibition to showcase a selection of new products.
The Taiwan-based storage specialist will be demonstrating a new range of Turbo NAS products that feature an easy-on-eye AJAX-based web interface. What's catching our eye, though, is the mention of the NMP-1000 Network Media Player.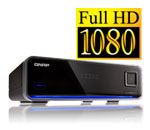 The player - pictured right in a far-too-small teaser - is said to be "small and lightweight" and represents QNAP's vision of networked media done right. Connecting to TVs via a HDMI 1.3 output, the NMP-1000 is said to provide full-HD playback and supports multiple file formats including H.264 MKV, M2TS, and FLAC.
There's a SATA interface hinting at the possibility of installing one internal hard-disk drive, and Gigabit Ethernet connectivity for networked playback. The NMP-1000 will play media from PCs or NAS devices, and it's also packing a few NAS-specific features of its own - including file server, FTP server and download manager.
That's all we know so far, but we'll be getting all the details when Team HEXUS hits CeBIT on March 3rd.