Unless you're a true RAID monkey and have a room that closely resembles a datacenter, chances are you've not got a RAID-5 NAS device in your house. Thecus has set out to change that.
The company has now officially released its N3200, a 3-disk NAS box designed for home users who want data security, performance, and plenty of space - 2TB using three 1TB drives in RAID-5, for example.
The SOHO NAS box is a tool-less design, making disk installation and swapping a breeze. As with existing Thecus products, it's got USB WiFi support and has a web-management utility.
There's a DLNA certified media server, along with an iTunes server. Thecus has included "web surveillance" that allows you to spy on people while you're not around with a compatible webcam.
We saw an early version of the N3200 back at Computex. Its appearance has changed a bit since then: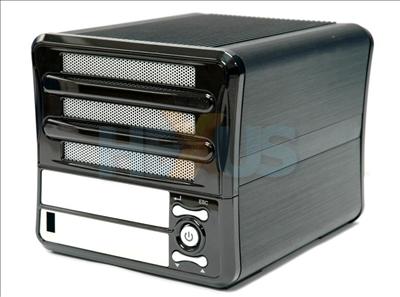 With growing numbers of us hoarding music, videos and personal data, and lots of houses containing more than one PC these days, the need for a central, sturdy backup system is there.
We'll see in due course whether the N3200 is up to that task.
Check out Thecus' press release for more details.