A new application called Office Mix has emerged as part of the Microsoft Office suite. Microsoft recently revealed that it is expanding its Office software with new offerings and new apps and it looks like 'Mix' is one of the first fruits of this labour.
Office Mix builds on the momentum of the release of Office for iPad, the updated Office Online, and the launch of Office 365 Personal. This new application is currently signing up testers of an early Preview product through the Microsoft Connect site. Office Mix works by adding in interactive functionality to PowerPoint presentation construction.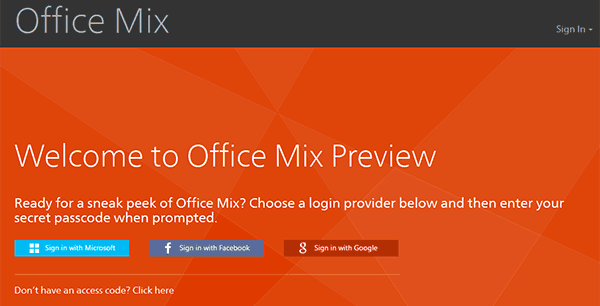 It's educational
The brand new service, likely to be targeted at the education sector based on information in various Office Mix Knowledge Base entries, transforms PowerPoint presentations into interactive, online lessons, whilst allowing users to share the document with anyone. Microsoft's goal is to turn PowerPoint presentations into classroom content by using Office Mix as it provides audio and video recording, handwriting, a screen capture tool as well as the ability to insert interactive elements such as quizzes and CK12 exercises.
The completed presentations can then be shared from the Office Cloud, allowing students to access the prepared lessons via any device with a web browser. The Mix add-in will also allow the user to track viewer participation and interaction with their presentations or lessons. You can therefore see if little Johnny is doing his homework perhaps…
"We designed MIX to be used in a variety of ways. We've seen teachers use MIX to help get absent students up to date. If a student misses a lesson you can just have them watch it at home, or wherever in the world they are. It's also a great way to have students review material or get extra material that doesn't apply to everyone in the class," explains Microsoft's Office Mix Knowledge Base article.
To access the preview, users will have to either sign in with an invite code or request a code through Microsoft's Connect site. For those who has signed up for the preview but don't have PowerPoint 2013, you will also get a free 180-day trial for PowerPoint 2013.