Pre-orders for Windows 8 are now being taken at the UK Microsoft Store online. Within the same headline banner advertising the Surface pre-orders, an advert and link to pre-order Windows 8 Pro has appeared. The price for Brits is £49.99. "Pre-order by October 24th and get free shipping," says Microsoft. There is a limit of five pre-orders per customer.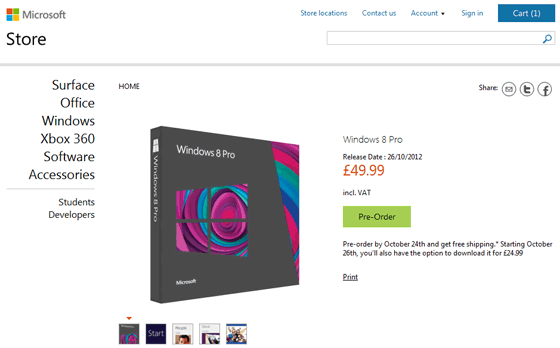 At the time of writing, nowhere on the site does it say this is an upgrade version of the new OS. The only reference to upgrades is made under the heading "Before you buy" which mentions how upgrading from Windows 7, Vista and XP is a different process. Adding the software to my online "basket" revealed no further clarification. However, from all our previous info these are upgrade prices; thanks for the clarity Microsoft. (Here is how Amazon.co.uk does it)
£24.99 download version
Microsoft also mentions you can get the download version after GA; "Starting October 26th, you'll also have the option to download it for £24.99". I don't think they should really refer to the new Windows 8 Pro so carelessly as "it", seems like a rush job to me. Also there seems like no way to choose a 32bit or 64bit version of the software...
Windows 8 is almost here
The Microsoft Windows home page here has now been taken over by Windows 8 blurb and imagery. Last time I looked it was all about Windows 7 and the wonderfulness of that operating system. Now the home page describes Windows 8 under headings including; "A beautiful Start", "A new era of PCs", "Serious. Fun", and more. The product overview on the pre-order page declares Windows 8 is "Windows 7, only better", continues to describe the cloud enhancement and integration in the new OS, finally deciding to tell us "It's all about the apps" (latest figure = 5,000).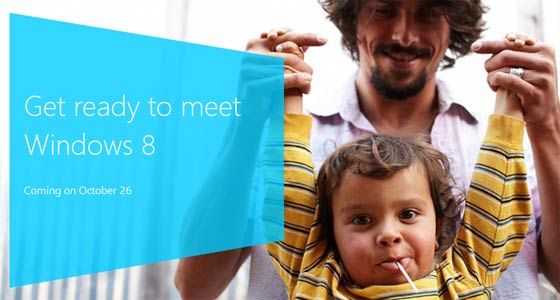 If you recently bought a Windows 7 PC - spend even less on the upgrade
Don't forget that if you recently bought a Windows 7 PC you can upgrade to Windows 8 Pro for only £14.99 under the Windows Upgrade Offer. You will need to have bought "a qualifying Windows 7 PC between 2 June 2012 and 31 January 2013".