Microsoft has already detailed how all Windows RT devices will come with Office 2013 installed and ready. Having Office 2013 installed will give its fledgling RT devices a fighting chance to take flight in the highly competitive tablet and hybrid portable market. Like Steve Ballmer suggested, Windows RT tablets, like the Microsoft Surface, will be more useful than many competitor devices. A large part of this usefulness is down to the Office 2013 RT software. To help us understand how the new office suite will work Microsoft has previously talked about the Office 2013 RT software; there was a long blog post about 3 weeks ago about the new suite. Now a new blog post has been published with further details of, probably the most extensively used Microsoft Office component, Word.
The Word Team writes that they are "excited to be shipping Office Home & Student 2013 RT with Windows RT devices." They guess also that everyone is asking "How is Word being optimized for Windows RT?" That is indeed a good question and the team break down their answer into three parts; Respecting Battery Life, Respecting Memory and Typing and Scrolling.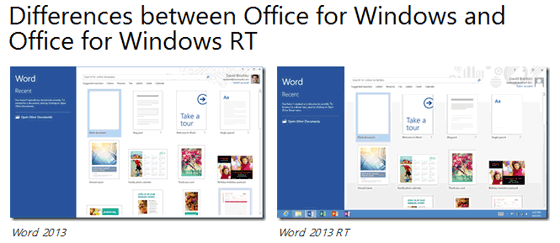 Battery life
As Windows RT devices are aimed at mobile use, just like current tablets, the Office team have been spending a lot of time trying to minimise the impact Office components have on battery life. "Deep idle mode" has been implemented to help make batteries last longer. This low CPU usage mode is implemented in the whole of Office for Windows RT. Also the team tell us it's also in the desktop version so Windows 8 users can also benefit from lower power usage, plugged in or not. "Who doesn't want to save money on their next power bill?" they ask.
Respecting memory
Many Windows RT devices will ship with 2GB of RAM as standard. To keep everything running smoothly on a device with lots of programs open and multi-tasking it is important to optimise memory usage. The Word Team said "There's a constant balance that we have to strike when optimizing Word's memory usage. On one hand, we want Word to use as little memory as possible. On the other hand, whatever resources we don't cache in memory will be more expensive to access or generate in the future, and that expense could result in Word feeling sluggish or unresponsive. Every optimization has to be considered carefully and there's no silver bullet." A Low Resource Mode (LRM) is used when the Office components are in the background "by pre-emptively releasing memory on our terms without sacrificing the user experience. Without LRM in play, the user is at greater risk for running low on memory and triggering expensive OS paging behaviours that can lead to indiscriminate user pain across multiple applications."
Typing, scrolling, working
Typing and scrolling "are core scenarios for Word". To make usage of the program pleasant and not tarnish the great reputation for usability Word has gained over many years, Word has to work great. The team says that they have managed to deliver the goods; "Scrolling via touch in Word 2013 on a Windows RT slate looks and feels fluid and natural. Typing feels clean and responsive, and a smooth yet subtle cursor animation enhances every keystroke. The overall experience feels solid."
I think it will be great to have the slick and powerful Microsoft Office suite in a tablet or phablet. Let's hope it works as well as the Microsoft developers say it does. Also it will be interesting to see how well Microsoft Office RT works with speech and hand writing (stylus) input.