The Building Windows 8 blog on MSDN today looked at the hardware acceleration of graphics under Windows 8. The headline - Hardware accelerating everything: Windows 8 graphics. The article looks at accelerating "mainstream" graphics instead of just game graphics and what performance improvements that gives us in mainstream desktop applications within Windows 8.
Windows 7 introduced two new DirectX components not found in previous versions of Windows; Direct2D and DirectWrite. Internet Explorer 9 was one of the first desktop applications to use these new hardware-accelerated graphics features to bring a smoother web browsing experience. Under Windows RT, apps will all feature this kind of performance boost. Steven Sinofsky says "With Windows 8 we set out to enable all applications to have the beautiful and high-performance graphics enabled by modern graphics hardware."
The Windows 8 developers focussed upon keeping the Metro interface running smoothly and quickly using DirectX "to enable stunning visual experiences" while still supporting the vast range of graphics hardware that Windows devices use. Measuring desktop app performance is different to the traditional 3D gaming benchmarks so the developers used the following metrics;
Frame rate
Glitch count (dropped frames)
Time to first frame
Memory utilisation
CPU utilisation
A lot of the rendering effort of a desktop app will be in displaying and moving text around the screen so text performance was a major target for optimisation. The next target for optimisation was traditional 2D shapes which are the building blocks of the interface; lines, ellipses, rectangles etc. Recognising that there are also plenty of irregular shapes needing to be displayed by the OS Microsoft have also improved their rendering speed. Vector shapes such as "Italy", "tiger" and "butterfly" are included in the benchmarks. Finally, most content also contains bitmap images so the rendering and scaling of popular formats such as JPG, GIF and PNG was optimised.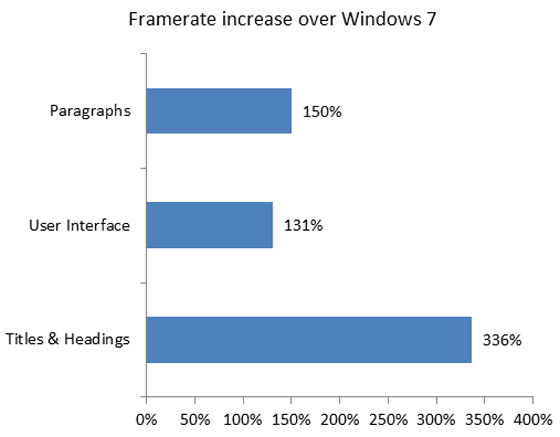 Windows 8 text display acceleration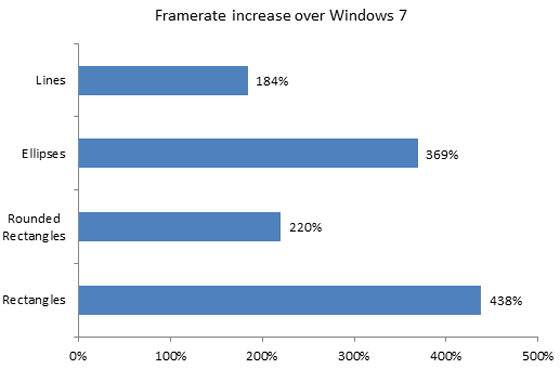 Windows 8 geometic shape display acceleration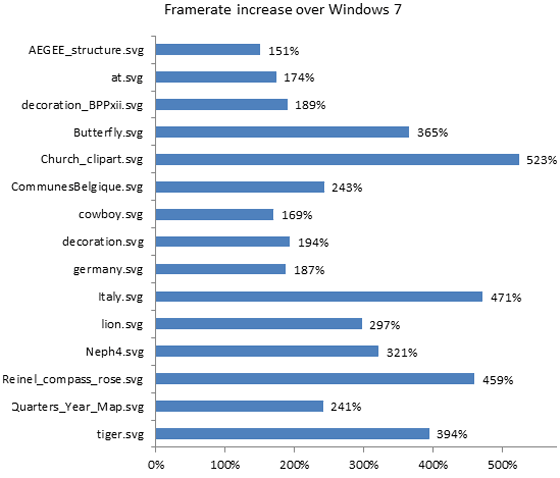 Windows 8 irregular shape display acceleration
Rob Copeland the group program manager on the Windows 8 Graphics team ended the blog post by saying "…we've done a lot of work to enable a very fast and smoothly animated user experience in Windows 8. From new ways to measure our progress, to optimizations for mainstream uses of our graphics platform, and new hardware features, we've created the best Windows graphics platform yet." He added that they have not forgotten about the DirectX for gaming side of things which will also be continually pushed forward with optimisations and new features.