Microsoft has posted new details of the new File History backup application that will come with Windows 8. Backup is something everyone knows they should do but seems to neglect; only thinking about it after data has been lost. Microsoft's own figures indicate that less than 5 per cent of consumer PCs use Windows Backup leaving "personal data and digital memories quite vulnerable as any accident can lead to data loss". File History is still an application that needs initial setting up and isn't turned on by default, however there will be a highly visible ribbon button within Windows Explorer specifically for it.
"File History is a backup application that continuously protects your personal files stored in Libraries, Desktop, Favorites, and Contacts folders. It periodically (by default every hour) scans the file system for changes and copies changed files to another location. Every time any of your personal files has changed, its copy will be stored on a dedicated, external storage device selected by you. Over time, File History builds a complete history of changes made to any personal file." Says Bohdan Raciborski on the Building Windows 8 blog.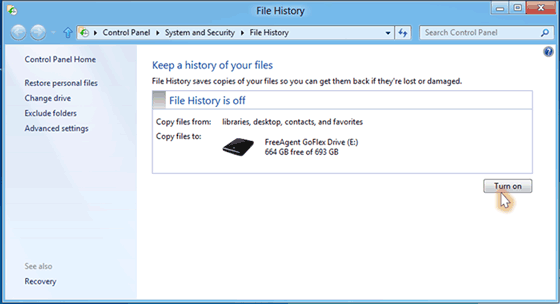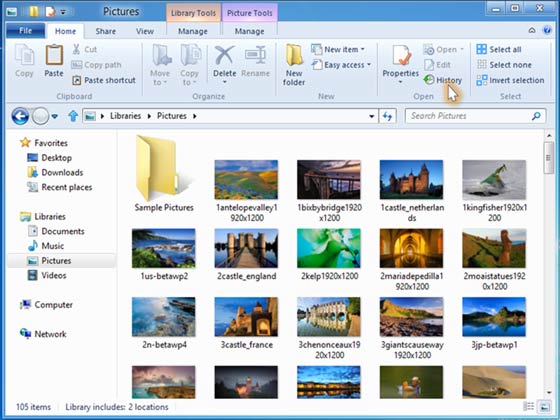 The new File History application's advances over older versions of Windows Backup are in its simplicity. Microsoft thinks the new approach will accomplish the following;
Make data protection so easy that any Windows user can turn it on and feel confident that their personal files are protected.
Eliminate the complexity of setting up and using backup.
Turn backup into an automatic, silent service that does the hard work of protecting user files in the background without any user interaction.
Offer a very simple, engaging restore experience that makes finding, previewing and restoring versions of personal files much easier.
File History is less invasive so if you are using your laptop, for example, disconnecting from networks and devices and sleeping the laptop will not invalidate backups and they can be easily resumed when networks or external devices and power are again available.
Part of the new app's unobtrusiveness is through its integration with the NTFS file system according to Microsoft. "In the past, most backup applications used brute force method of checking for changes in directories or files by scanning the entire volume. This approach could significantly affect the system performance and requires an extended period of time to complete. File History, on the other hand, takes advantage of the NTFS change journal." File History will reduce its demands upon your system in response to other processes requiring intensive I/O or CPU time.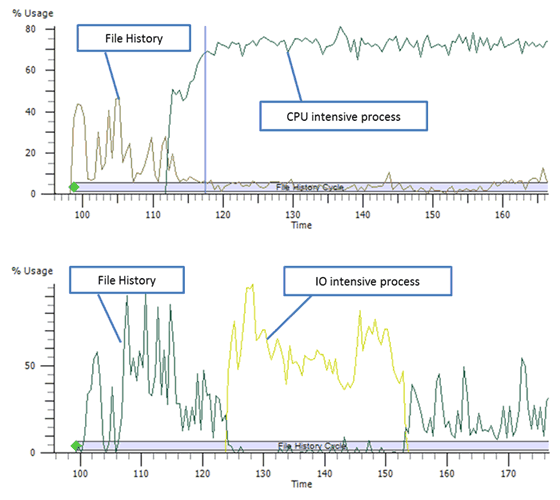 Though a lot of the headlining features of File History emphasise ease of use "minimal setup, no schedule, no maintenance", the application also has a lot of deeper control for those users wishing to use it that way. It is very configurable regarding frequency of backups, how long and how many versions to be saved, size of the disk cache, folder exclusions, using Storage Spaces, SkyDrive and Bitlocker.
File History, as the name may imply, doesn't do full system backups, it's all about your personal data. The Microsoft blog says that users interested in system backup can still use Windows Backup to create a system image. However Windows 8 does have other system refresh and reset options available built-in. "We've built two new features in Windows 8 that can help you get your PCs back to a "good state" when they're not working their best, or back to the "factory state" when you're about to give them to someone else or decommission them" using the Windows Recovery Environment (Windows RE). You can read about those features, announced for Windows 8 in January, here.