Having mapped the Earth, the depths of the oceans, the Moon, Mars and the stars beyond our solar system, Google has now documented the final frontier - the human body.
Using WebGL to leverage the power of a PCs GPU, the search-giant has rendered an interactive human body that can be searched, navigated and stripped back to the nerves and bones. The project is still in the 'labs' stage and began as one of the company's well-known '20 per cent' projects, meaning that an engineer knocked it together when they wanted a break from doing what they're paid to do.
Of course, this just so happens to be a perfect showcase for the latest beta version of Chrome, which introduces support for the 3D API. In addition, Chrome 9 will sandbox the Flash plugin, providing an added layer of protection to the browser by preventing malicious code embedded in the files from harming the rest of the system.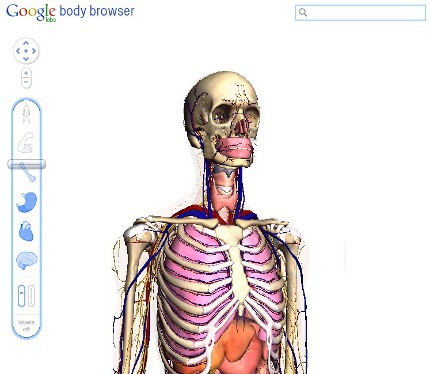 Lastly, the developers have added Google Instant to the Omnibox. As well as automatically generating instant search results - if your search engine of choice supports it - Chrome Instant will start loading commonly visited webpages as you start to type in the address. In theory, this means that you can arrive at a site before you've even finished typing the URL.
Download links and more details on all of the changes in Chrome 9 beta are available on the Chrome blog, and more details about WebGL can be found on the Chromium blog. If you just want to test out the Body Browser, you'll need a WebGL compatible browser, which right now means either Chrome 9 (or higher) or Firefox 4 beta.