Whoever said Vista was bloated didn't use vLite
I wouldn't go as far as to say Windows Vista needs to go on a diet, granted the operating system does use a lot of hard drive space, but then, hard drive space isn't exactly hard to come by these days.
Still, many would argue that Vista should be slimmer. Thanks to vLite, a freeware tool designed by Dino Nuhagic, you can now make Windows Vista as slim as you'd like it.
It'll let you choose exactly which components of Windows Vista you'd like prior to installation, stripped down to its bare minimum, Windows Vista is said to occupy half its normal hard disk space.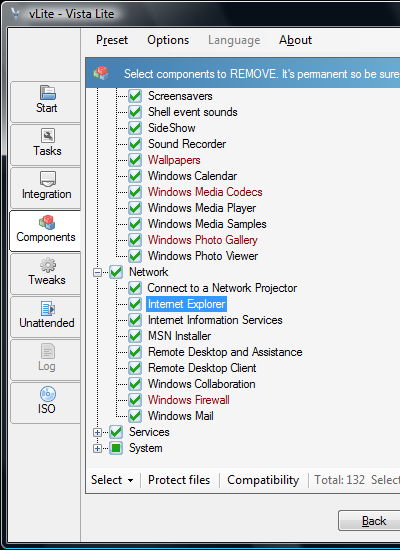 vLite's main features are listed as:
Hotfix, language pack and driver integration
Component removal
Unattended setup
Tweaks
Split/merge Vista installation CDs
Create ISO and burn bootable CD/DVD
In an e-mail to InformationWeek, Nuhagic says "It's not just about hard disk space. There is also an increase in OS responsiveness and you don't have to tolerate all kinds of things you don't use".
If you're itching to de-bloat your Vista installation, v1.1 final of vLite can now be downloaded from vLite.net. Be warned however, once these components are removed, they can't simply be put back, there's no vHeavy available yet.
Official product page: vLite.net