Advanced Micro Devices has announced the retail availability of its new AMD Memory branded desktop system memory modules.

In a statement announcing their availability AMD said it "aims take the guesswork out of DRAM selection, providing an easy and straightforward experience when looking for the ideal match for gaming or multimedia PC needs."

The modules are available with various sizes, including 2GB, 4GB and 8GB, and various speeds. For the entertainment category, it will feature 1333 MHz and 1600 MHz speed RAM. A performance version supports speed up to 1600 MHz with low latency and comes in matched pairs, while Radeon Edition DRAM will run at 1866 MHz.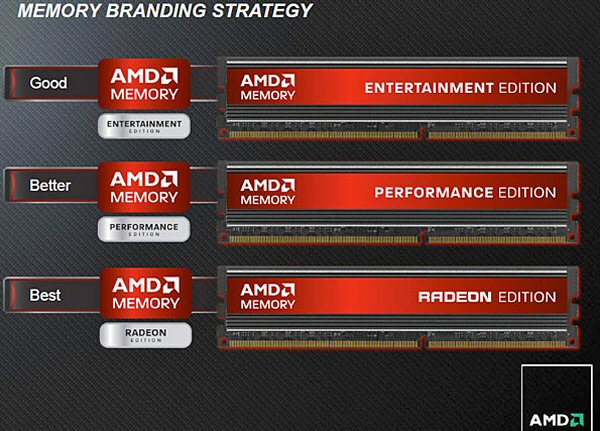 "

AMD has been supplying and validating memory for AMD Radeon graphics cards for several years,

" said Matt Skynner, corporate vice president and general manager, AMD GPU Division. "

Based on this experience, adding system memory to our product line was a clear opportunity for us. This move provides our partners and end-users with a trusted brand synonymous with quality -- we can help ensure performance and reliability with AMD Memory

."

The devices are geared toward the OEM market as well as retail with the aim of providing an "

easy and straightforward experience

" for customers when adding memory to their PC system.

Launch partners include Alternate (Germany), ASBIS (East Europe) and VIP Computers. Check out AMD's website for more details.