Piecing together a potential X79 build? Looking to get your fix of Corsair memory? Well, you're in luck, as the manufacturer has just announced a complete line of quad-channel kits.
The kits are available in many of Corsair's usual flavours - including cheap-and-cheerful XMS3, mid-range Vengeance and high-end Dominator - and quite a few are in stock at various UK retailers.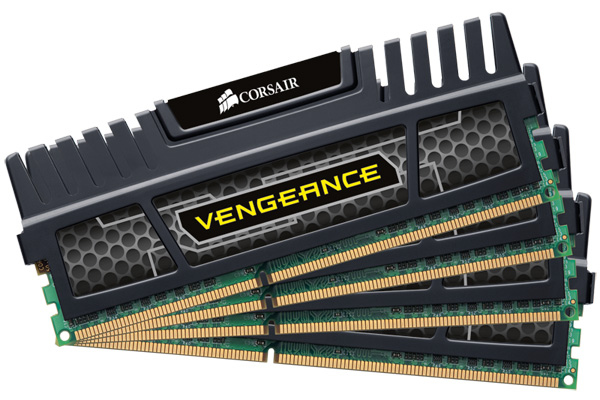 As you'd expect from high-performance X79 solutions, both the Vengeance and Dominator lines offer support for Intel's latest XMP 1.3 profiles, and speeds of up to 1,866MHz and 2,133MHz, respectively.
Corsair's yet to announce any 64GB (8x8GB) kits, but a range of of 8GB (4x2GB), 16GB (4x4GB) and 32GB (4x8GB) kits are readily available and are detailed in the table below. Browsing through Scan's inventory, a 16GB kit of Vengeance 1,600 memory with 9-9-9-24 latencies at 1.5V seems a solid bet at just over £80.
Corsair Dominator Series

Size
Speed
# of DIMMs
Heat Spreaders
Part Number
32GB
1866MHz, 9-10-9-27, 1.5V
4
Black DHX
CMT32GX3M4X1866C9
32GB
1600MHz, 10-10-10-27, 1.5V
4
Black DHX
CMP32GX3M4X1600C10
16GB
2133MHz, 9-11-10-27, 1.5V
4
Black DHX
CMT16GX3M4X2133C9
16GB
1866MHz, 9-10-9-27, 1.5V
4
Black DHX
CMP16GX3M4X1866C9

Corsair Vengeance Series

Size
Speed
# of DIMMs
Heat Spreaders
Part Number
32GB
1866MHz, 10-11-10-30, 1.5V
4
Jet Black
CMZ32GX3M4X1866C10
32GB
1600MHz, 10-10-10-27, 1.5V
4
Jet Black
CMZ32GX3M4X1600C10
16GB
1600MHz, 9-9-9-24, 1.35V
4
Military Green
CMZ16GX3M4X1600C9G
16GB
1600MHz, 9-9-9-24, 1.5V
4
Jet Black
CMZ16GX3M4X1600C9
16GB
1600MHz, 8-8-8-24, 1.5V
4
Low-Profile Jet Black
CML16GX3M4X1600C8
8GB
1600MHz, 9-9-9-24, 1.5V
4
Jet Black
CMZ8GX3M4X1600C9
8GB
1600MHz, 9-9-9-24, 1.35V
4
Military Green
CMZ8GX3M4X1600C9G
8GB
1600MHz, 8-8-8-24, 1.5V
4
Racing Red
CMZ8GX3M4X1600C8R