At the end of July we showed you some new input devices from the Microsoft hardware team which were said to be celebrating Windows 30th anniversary and "specially designed and finely tuned for use with Windows 8". Now even closer to the Windows 8 launch Microsoft has unveiled the Microsoft Sculpt Comfort Keyboard. This is a full sized keyboard, not a "mobile" one.
The new Sculpt Comfort Keyboard is a development of the Sculpt Keyboard from a few weeks ago mixed with the design of Microsoft's old classic Natural Keyboard. The new keyboard features a six degree bend within its layout, a detachable palm rest and integrates a 3D "hump" for even less movement required within your wrists while you type.
A picture says a thousand words so take a peek through the gallery below: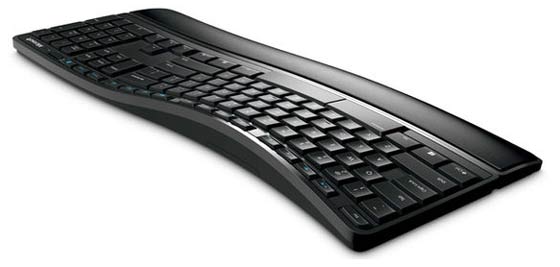 The new keyboard, being designed for Windows 8 has 'hot keys' for the Search, Share, Devices and Settings charms usually brought up in Windows 8 by mousing to the right corners of the screen. Additionally, to help you work more quickly in Windows 8, there are hotkeys for flipping between apps, switching apps, snapping apps, or bringing up the app bar.
The split space bar offers split functionality

An interesting innovation in this keyboard design is the split space bar design offering left-side backspace functionality. According to the Windows Experience Blog "This eliminates that awkward "pinky reach" to the standard backspace key and keeps your wrists in a comfortable position. This design decision was made based on research that showed 90% of typists use only their right thumb to press the spacebar. This leaves a ton of unused keyboard real estate on the left-side of the spacebar." The split operation is optional and the functionality is toggled by holding down both sides of the spacebar. Just in case you hate it!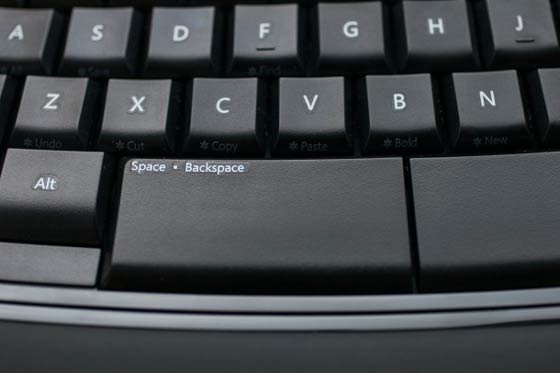 The guys at c|net have already had their grubby hands on one of these keyboards for testing and were not very impressed, awarding it 3 out of 5 stars. They complained about "Mushy typing and an oversize spacebar make the Sculpt Comfort Keyboard feel imprecise and cumbersome," which is pretty damning. No one likes mushy, imprecise typing...
The Microsoft Sculpt Comfort Keyboard is a wireless device, coming with the required USB dongle and 2 X AAA batteries. It is compatible with Windows 8 and RT, Windows 7 and Windows Vista. The suggested price is $59.99 and it's expected to be made available at the same time as Windows 8 launches.