As anyone who has had lunch at their desk will testify, keyboards can soon get jammed full of crumbs, crisps and coffee pretty quickly. Now well known Swiss PC input device and peripherals maker Logitech have introduced a new washable PC keyboard to address the keyboard gunk problem. Computer users for whom cleanliness is next to godliness and indeed messy, accident prone folk, might find this waterproof keyboard is the perfect choice for them.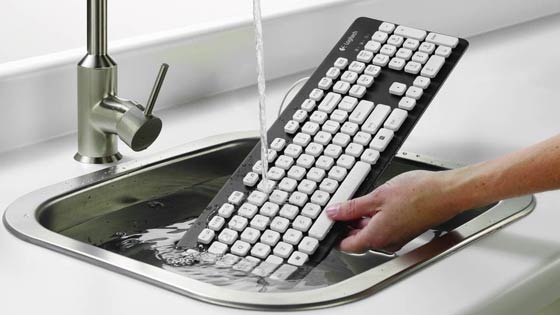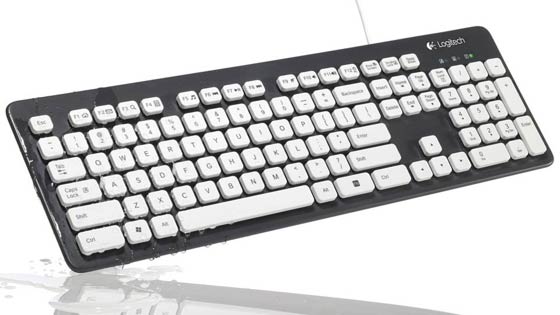 Sometimes a drink spill on your keyboard can send the input device haywire. The magic hairdryer and/or patience needed to dry it out often works, as long as your drink spillage wasn't too vast or too laden with sticky sugar. The Logitech K310 has no such worries, it can shrug off being submerged "in up to 30 cm (11 inches) of water and has convenient drainage holes at the back for speedy drying". Be careful though as Logitech's ruler seems to equate 30cm with 11 inches!
Keyboard specs
Low-Profile, framed key design
Rubberdome key technology
Caps Lock, Num Lock, Scroll Lock three LEDs
Media keys; Function key shortcuts for Internet, email, volume controls, sleep and more
8° Tilt legs
Interface: USB
System requirements: Windows® XP, Windows Vista® or Windows® 7
Warranty: 3 years
Package contains: Keyboard, brush, user manual
Washing instructions: Hand washable, no dishwasher, no clothes washer, no dry cleaner. Max. 30cm of water (24 hours at 25 degree C or 36 wash cycles of 5 minutes @ 50 degree C). Use soft sponge or brush (not abrasive material). Use standard dishwasher soap (no alcohol disinfectant, solvents or harsh detergents). Dry naturally.
RRP £34.99

This keyboard has a very decent warranty for one which almost begs to be mistreated and clarted with food and drink with complete abandon. As Logitech say "life happens". Several parts of the keyboard construction help it live through washes and go on to work another day; the rubberdome key technology is sealed to keep the electronics out of water, the keycaps are laser engraved and UV coated so they don't easily scrub off and there are drainage holes within the keyboard construction to facilitate faster drying off.
The scrabble tile styled Logitech K310 is a standard full sized keyboard compatible with Windows XP, Vista and 7. (wot no 8?) The top row function keys double up as "media keys" using a modifier giving you quick access to; launching programs, music play back functions, adjusting volume and sleeping the PC. The K310 is now available for pre-order and is expected to be widely available in October. This may be the right keyboard for you is you are especially prone to spillages and don't mind a rubberdome action.