Well known touchpad manufacturer Synaptics is branching out to make more touch sensitive input devices using its touch knowhow. Keyboards are an obvious related technology to choose as a springboard to expand the Synaptics business. The company thinks it has created several genuine benefits for users by implementing its capacitive touch technology into keyboards. The first fruit from this touch/keyboard amalgamation is the Synaptics ThinTouch.
Below are some of the key benefits of the ThinTouch compared to a conventional laptop keyboard;
30% to 50% thinner
More room in laptop chassis for increased battery capacity
More room for more effective cooling
More room for an overall thinner chassis
Benefits in lighting (because of the lower keycap profile)
The mechanical technology offers better manufacturability and reliability
Force sensing (enabling pressure sensitivity in the keyboard, gestures on the space bar)
The touchpad is disabled whilst typing (this is a feature that already appears on many laptops)
A lot of the plus points of the keyboard listed above allude to the thinness of the keyboard and the associated hardware that supports it. Laptop makers are always boasting about how thin their laptops are and if the space saving isn't used to reduce the laptop thickness it can be used to facilitate more efficient cooling or a larger battery giving your mobile computing more stamina.
Beyond the mere physical dimensions of the keyboard are the interesting capacitive touch features. The only use of this hinted at in the Synaptics promo video above, is from the force sensing pressure sensitivity. In the video the typist seems to press more firmly on a key and the result is that the letter is capitalised.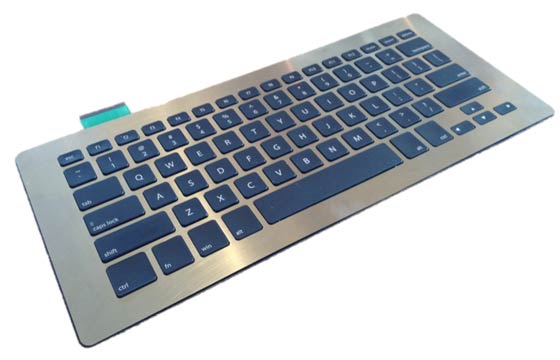 Finally the keyboard is said to be more reliable due to the simpler mechanical design. The ThinTouch doesn't need the scissor mechanism that traditional laptop keyboards use to move the key upon pressing, actuating a switch, telling the computer a key has been pressed. There is, in its place, just a simple mechanism that moves the key as a form of physical typing feedback. Synaptics say this feedback amount can be tuned depending upon the OEM requirements.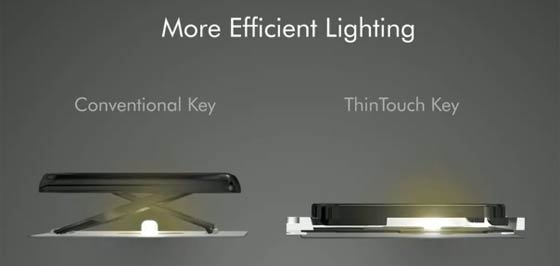 Whether the ThinTouch takes off might have a lot to do with pricing. We don't know the pricing of these keyboards at this time. Synaptics hopes the keyboards will be deployed alongside its TouchPad technologies (like the new ForcePad) to enable "a 'better together' synergy that enables rich multi-modal functionality." The ThinTouch and ForcePad pairing may be expected show up in some high end flagship devices in the not too distant future. As with all touch and keyboard technology it is important to try before you buy to see if the feel and functionality work for you.