As great as wireless keyboards and mice are, they still come with one minor downside - the need to charge or replace the batteries every so often. Logitech claims to have solved this problem, though, with a brand new solar-powered keyboard.
The Wireless Solar Keyboard K750 is powered completely by the sun and will even work indoors. The fact that it's dark outside doesn't mean that the keyboard will stop working, though, since the integrated battery will keep things running throughout the night. In fact, it should be able to provide power in absolute darkness for around three months, which should be just enough to get through the depths of a British winter.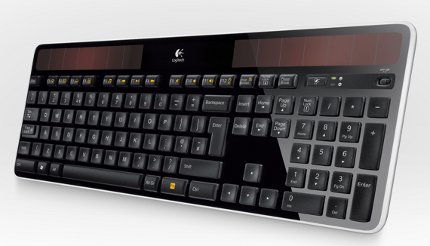 To help keep check on the battery levels, the manufacturer's also releasing a program that will sit on your desktop and report the current charge as well as a lux meter to tell you how much light is hitting the panels.
Otherwise, you're looking at a fairly standard wireless keyboard, with features limited to a handful of media controls and Logitech's Unifying USB wireless technology. As well as including a ridiculously small receiver, the system allows up to six of the company's peripherals to connect to a single dongle at once, removing the need for multiple adapters.
The designers have gone for a slimline approach, with the keyboard itself measuring only 7.5mm thick. This, combined with the slightly concave keys should mean that it has a fairly laptop-like feel.
The Wireless Solar Keyboard K750 should be available in Europe at some point in January 2011 with a retail price of £69.99, though it's available to pre-order now through Logitech's web-store.