If you're into your MMORPGs (massively multiplayer online role-playing games), you should probably have two essential items on your holiday shopping list: the World of Warcraft: Cataclysm expansion pack and the new Razer Naga Epic mouse.
The latter, pictured below, is an upgrade to the original Razer Naga design and features one important twist - it's now core-free and uses the same wireless technology as the Razer Mamba.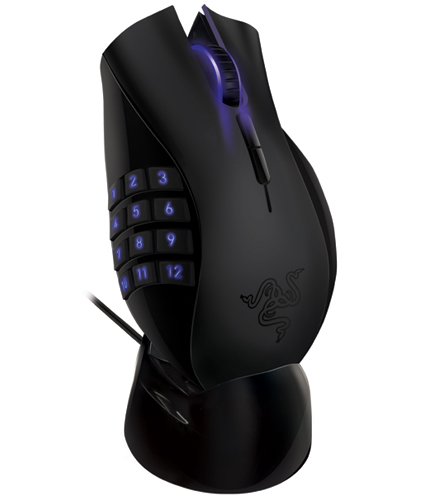 The mouse can still be used in wired mode by attaching a USB cable - doing so charges the integrated battery - and all the usual Naga features are present. That includes 17 fully-programmable MMO-optimised buttons, three interchangeable ergonomic side panels, a 5,600dpi laser, a 1ms response time and a customisable backglow.
The charging dock bundled with the mouse doubles as the wireless receiver, but we're told the mouse will run for only 12 hours of continuous use. Is that really going to be enough for a true WoW addict?
If you think it is, the Razer Naga Epic is available to pre-order now priced at €129.99. It should ship on November 29th, but if you're willing to remain wired, it's worth noting that the standard Razer Naga can be had for €50 less.