It's not often that you'll see news about a printer appearing on HEXUS, but then this is no ordinary printer. HP is launching an all new model under its Envy branding - normally reserved for high-end laptops 'inspired' by Voodoo PC - that rethinks just what a printer should look like.
At first glance, you probably wouldn't even know what the sleek looking Envy 100 was. There are no visible paper trays, and the styling and form factor are more reminiscent of a PVR or some sort of stereo component. Instead, both of the trays mechanically extend from inside the casing, in a similar way to a big CD drive.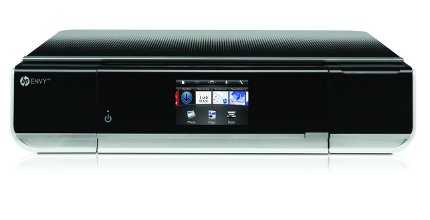 The package also contains a flatbed scanner and 802.11n WiFi for easy set-up as a networked device.
Sat at the front of the Envy 100 is a 3.45in touchscreen that includes all of the printer's normal controls and options. HP is also offering apps that let you go online and pull down maps, recipes, photos and news to print without ever having to go near a PC.
To add a final feather to its cap, the manufacturer claims that this is the world's first printer to be made without PVC, which certainly helps its environmental credentials.
HP's stylish new printer is certainly unique, and could be the first we've ever seen that puts aesthetics at the forefront. However, we're not sure how many consumers will feel the need to prioritise looks so highly. Costing $249 (£195 inc VAT) when it launches on October 4, the Envy 100 is likely to appeal only to the well-heeled purchaser whose printer will take pride of place in their living room or office.