Frankly, we can't believe it took so long for anyone to come up with this. Sure, we've seen power-bricks with a USB port for charging before, but this is a genuinely brilliant idea.
Lenovo has announced the availability of the Power Hub - a combination USB hub and laptop power-supply. The brick integrates three USB 2.0 ports for power and data as well as one dedicated to charging. It then connects to a laptop via a combination USB and power Y-cable.
Obviously the combined device will cut down on clutter, both on a desk and in a laptop-bag by removing the need for a separate hub - which often requires its own power cable. It also allows devices to be charged while the laptop is switched-off through the dedicated charging port.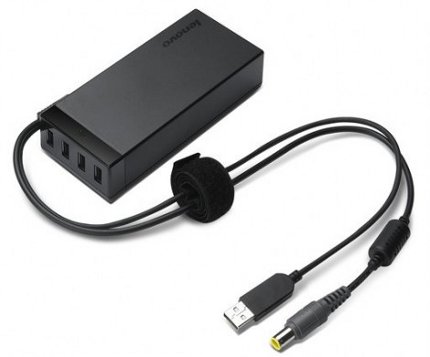 Apparently researchers at Lenovo found that a lot of devices - namely smartphones - wouldn't charge through a normal powered-hub that wasn't connected to a computer. The inclusion of the charging port means that almost all devices can draw power when the netbook is powered down.
As brilliant as we think this device is, it could just be the beginning. According to Lenovo senior marketing manager Ashley Dunham, the company expects to develop other device combinations to fulfil customer needs in the future.
The Power Hub will work with 65W and 95W ThinkPad laptops and is available now in the US directly from Lenovo for $74.99 (£58.49 including VAT). Hopefully Lenovo will also start shipping it with new laptops in the near future.