HP has unveiled two new DreamColor monitors for PC, Linux and Mac users. The HP Z27x and Z24x displays form the second generation of HP's DreamColor monitor lineup, which is said to offer unprecedented colour accuracy. HP boasts that these new monitors are much more affordable, with the Z24x to be sold at less than a quarter of the price of the original HP DreamColor display (the HP LP2480zx).
The latest DreamColor engine provides up to 1.07 billion on-screen colours, boosting the available colour palette by 4,000 per cent. Also the new monitors include up to 60 per cent more pixels and are physically up to 57 per cent thinner. "The HP DreamColor Engine and our line of DreamColor products have become the gold standards for professionals who demand colour accuracy," said Jun Kim, vice president and general manager, PC displays and accessories, HP. "This next generation of HP DreamColor Displays will once again disrupt colour technology, providing customers with richer and more accurate colours than ever before."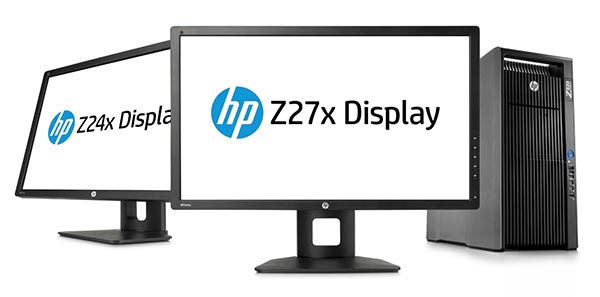 Both the Z24x and Z27x offer the following features:
10-bit colour accuracy
Easy selection of colour space and colour presets. Custom colour settings are saveable.
Colour workflows supported in Windows, Mac and Linux systems
While the Z24x is said to offer accuracy and quality in line with the previous much more expensive DreamColor LP2480zx monitor, the Z27x is said to break barriers by providing "three times the colour accuracy over the previous generation". It also offers 4K support, hostless colour calibration, Ethernet-based remote management and an SDK.
The Z27x offers users an ultrawide Digital Cinema colour gamut with 100 percent of sRGB, 100 percent of AdobeRGB and 99 percent of DCI-P3. This monitor is equipped with the 'HP Night Vision Interface', which facilitates more comfortable working in darkened studio conditions. HP says that the DreamColor displays were built in collaboration with DreamWorks Animation, among others.
The HP DreamColor Z24x and Z27x displays are said to be available from today at $599 and $1,499 respectively.