One of the big problems with 3D gaming at the moment is the sheer amount of kit required to get set up - a powerful graphics card, 120Hz monitor and 3D glasses and the associated hardware are all required before you can get started. Now Acer is making the process just a little easier - and probably a bit cheaper - with the GN245HQ monitor.
At first blush, this looks like a regular 23.6in, 1,920x1,080px 120Hz monitor, but there's quite a bit more to it than that. Acer has built the necessary IR emitter into monitor and ships the screen with a pair of NVIDIA's active-shutter glasses, giving you pretty much everything that you need right out of the box.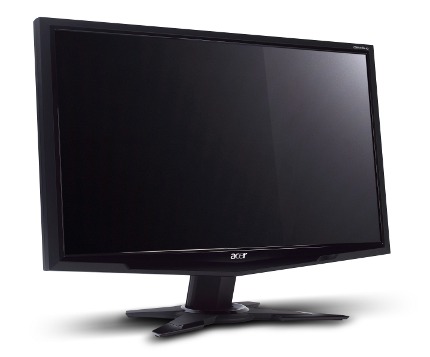 The manufacturer also claims that this is the first monitor in the world to support NVIDIA's HDMI 3D tech. It's not entirely clear what this comprises, but at the very least it'll let you hook a 3D-enabled Blu-ray player or console to the monitor over HDMI, as well as connecting your PC using the DVI input.
Other highlights include LED backlighting with a claimed 100,000,000:1 contrast ratio, 2ms response time, a pair of 2W speakers and a fairly minimalist design. The GN245HQ also has its environmental credentials in check - the construction is mercury free, the materials are easily recyclable and it apparently uses up to 68 per cent less power.
Priced at £419.99, Acer's new 3D monitor looks like a relatively cost effective way to break into the world of 3D gaming. It should be available to buy in the UK in the middle of march.