We've had a chance to see Qualcomm's Mirasol reflective display technology a few times this year, and even though the manufacturer sees a big future for it, we still haven't heard about any commercial products that make use of the screens - even as we fly through the predicted launch window.
Now, a manufacturer has finally gotten onboard with the technology, and announced the first colour e-reader to make use of the display. PocketBook - which makes a number of greyscale e-readers that are available around the world - has announced that it will be launching the Mirasol e-reader at CES 2011 in January.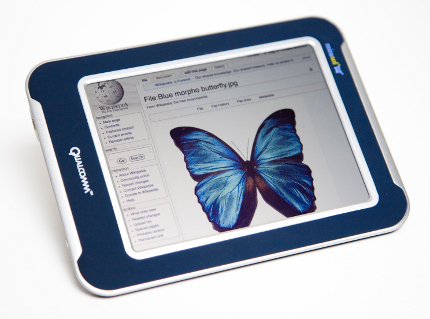 A prototype e-reader using the Mirasol display
What makes Qualcomm's Mirasol screens interesting is that, like a traditional e-ink display, it isn't backlit meaning that power-usage is very low. However, the full colour screen will be able to refresh at a rate of up to 30 frames-per-second, making it suitable for videos as well as colour books and magazines.
However, it looks like the technology isn't quite that mature yet, and sources have told The Digital Reader that the current PocketBook prototype can only manage a refresh rate of 12fps. However, this might improve before the device hits retailers, which isn't expected to happen until some point in the third quarter of 2011. The source also suggests that the display will cost about 50 per cent more than a black-and-white e-ink display does at the moment.
Apparently the press-release was released by mistake, so it's likely that Qualcomm and PocketBook will make a more formal announcement at some point in the near future. However, it seems pretty certain that we won't have to wait much longer to learn about this exciting new tech.