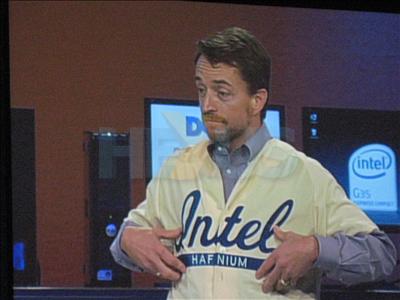 Pat Gelsinger, attired in Team Hafnium baseball shirt, commented that virtualisation, manageability and security are three of the most important concerns for Intel over 10 years,

He noted that we've historically had a 1:1 ratio between hardware and the operating system. Virtualisation, though, allows one to concurrently run multiple hardware-isolated operating systems on said system, through a combination of hardware and software features. Tying it all up with recent announcements, he highlighted that Caneland (Tigerton/Clarksboro was an obvious choice for virtualisation, with quad, quad-core processors situated in a single box.

As such, the likes of Lenovo's R630 G7 and HP's DL580G5 are all designed around the Caneland platform and are suited to VT tasks. Hitachi's Virtage Itanium-based Blade Symphony server also made a fantastic candidate for VT duties, Gelsinger proferred.
vPro updated
Pat went into a little detail of the third-generation vPro technology that's due to be released in 2H 2008. The McCreary platform will carry AMT 5.0, the Eaglecreek chipset, and TPM 1.2. Being environmentally-conscious, too, it'll be both lead- and halogen-free, he noted.

McCreary will also have a new security feature built into the chipset that goes under the name of Danbury. Danbury moves the critical components of software security to hardware. More on this when we have it.


I/O innovation
PCIe 2.0 has already been announced for the X38 desktop chipset and Seaburg workstation/server chipset. PCIe 3.0 will offer double the bandwidth, which is nice.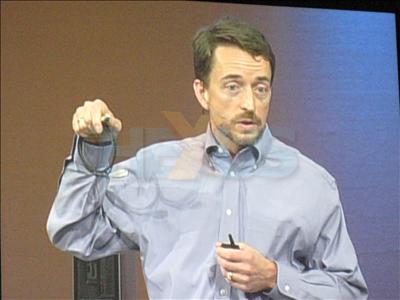 Intel is leading the USB3.0 promoters' group with a view of increasing the present USB2.0 performance by a factor of 10. USB3.0 will use optical and/or copper interconnects to ramp up throughput to 4.8Gbps and will be backwardly compatible with USB2.0/1.1. There have been around 6bn USB devices sold since it was first introduced, so it's sure to be another money-spinner.

Faster Ethernet controllers were also the order of the day as Intel announced a 10Gbit/s Ethernet fiber-channel-over-ethernet controller (82598). Speed is the order of the day, as far as Mr. Gelsinger is concerned.