MicroStar International (MSI) has a series of gaming motherboards in the works and plans to show them off at CeBIT 2013 next month. The new boards will be thrust into the market to face up to the likes of the ASUS ROG and the Asrock Fatal1ty series. The MSI "G" Motherboard family's USPs will include enhanced networking capabilities and MSI "Gaming Device Ports", specially optimised for speed and durability.
High performance network
Bit-Tech reports that MSI has shared a teaser concerning high performance networking ports on the soon to be revealed MSI G series of motherboards. It says that the new motherboards will feature the Killer E2200 chip. This is an "embedded-only sequel to the Killer 2100 NIC released by Bigfoot Networks in 2010 prior to its acquisition by chipset specialist Qualcomm".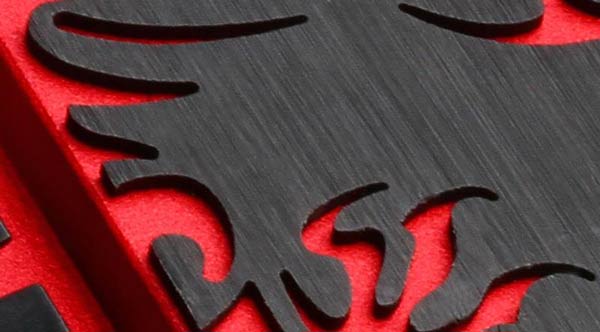 Also Ted Hung, vice-president of MSI's motherboard division, is quoted as saying "We are truly excited to cooperate with Qualcomm on the implementation of their unique technology on our soon-to-be announced gaming motherboards. This puts MSI in the driver's seat for gaming motherboards with a balanced line-up that hits all critical price-points for gamers."
The E2200 is fully compatible with Windows 8 and Linux and should offer users of the MSI G series of motherboards the ability to prioritise and control their gaming internet traffic.
Gaming Device Ports
You can see in the picture below, the red bordered block on the motherboard highlighting the MSI Gaming Device Ports. MSI says that these offer gaming benefits to users including "more responsive play, smoother gameplay and faster reactions". This is due in part to the high polling rate of the port and enhanced by the extra thick gold plating on the ports giving them "10x longer lifetime when plugging/unplugging".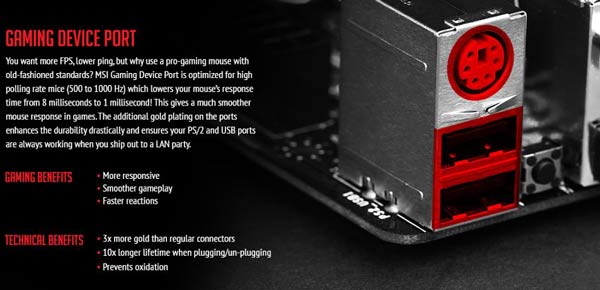 "Something you control that is just as important as FPS and LAG"
The gold plated promotional blurb regarding these ports may be hard to swallow but MSI will also hopefully include a good set of further more meaningful enhancements with which to combat the aforementioned ASUS ROG and Asrock Fatal1ty series competition. Bit-Tech suggests the little button next to the red gaming device ports is some kind of overclocking button.
Further full details and the prices of these enhanced MSI G series motherboards should be revealed next month.