ASUS brings it on with latest AMD Socket AM2 and Intel Core Duo based mobo's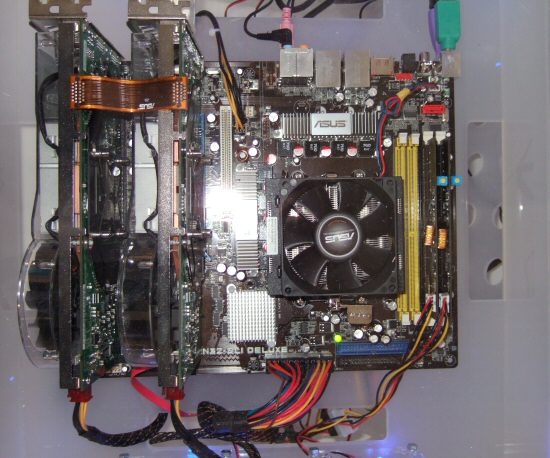 The first of these boards, labelled "M2N32-SLI Deluxe", looks like a successor to ASUS's current top of the line "A8N32-SLI Deluxe" board.

Utilising an as yet unreleased NVIDIA C51D+MCP55P combination and designed for AMD's much-anticipated AM2 Socket platform. Strangely enough this board features Geil DDR2 memory with 3.5" (floppy style) power connections plugged into them via the use of a 5.25" (hard-drive/optical style) to 2 x 3.5" power adapter lead. The modules themselves have voltage pots on top (most likely to adjust the DDR2 voltage) so could be engineering samples especially used to help fine-tune the board design. In addition the board is equipped with Analog Devices brand-new AD1988 audio CODEC, which in conjunction with the supplied microphone, provides H/W-assisted noise cancellation technology to filter out the background noise with minimal CPU utilisation. According to ASUS reps on the stand, they expect mass-production on this board to begin during June/July.

The second of the boards, labelled "N4L-VM DH", features both Intel's latest mobile chipset 945GT, Core Duo processor (Yonah), in addition to supporting Intel's VIIV Technology Quick-Resume feature. The board features a generous two PCI slots in addition to one x16 PCI-E and one x1 PCI-E slots in a Micro-ATX form-factor. This should enable people who want to build themselves a high-performance/low-noise gaming rig in addition to functioning as a Dual-tuner (or even Triple if they can find a PCI-E x1 DVB-T or PAL Analogue based TV-Tuner card) Intel VIIV-compatible box can now do so quite easily. According to ASUS reps. on the stand, mass-production is now so expect boards to appear in stores near you soon.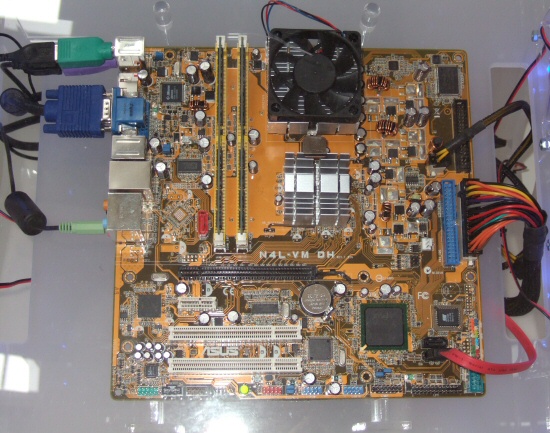 "