With AMD's enthusiast processors seemingly stuck-in-a-rut since the Phenom II - first released back in 2008, aside from competitive prices in the mid-range, it's difficult to claim that AMD currently offers a CPU for high-end enthusiasts at this moment in time. We know for a fact that Steamroller is coming and, that it'll start the firm slowly moving forwards once again, though, what about right now?
Much of the development in the motherboard segment is focused on Intel, with the latest and greatest features typically found only on Intel's boards. Even if you wished to make an enthusiast out of AMD, it's quite difficult, however, ASUS plans to change this and has announced a refresh of the Crosshair V Formula, the Crosshair V Formula-Z.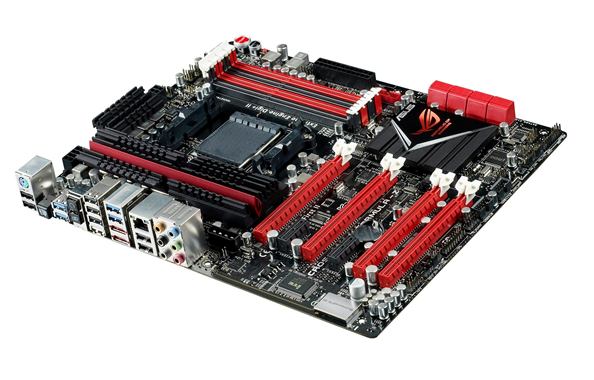 Most notably and perhaps, most importantly for a dual-channel system, ASUS is now employing its T-Topology memory system, which creates tracks of equal length to both memory DIMMs, ensuring a perfect match of data travel time, allowing for greater obtainable frequencies and greater stability at those frequencies. In fact, the Formula-Z is now certified for 2,400Mhz up from the 2,133MHz of the original variant.
Increased memory stability is backed by increased overclocking stability through an upgrade of the Digi+ engine to the Digi+II which, amongst superior fine-tuning, features higher-quality capacitors to increase stability.
The previously integrated SupremeFX II soundcard has been upgraded to a SupremeFX III, which features a capacitor-bank for smooth and powerful analogue delivery, mixed with ASUS Redline and PCB shielding technology to provide EM shielding from the rest of the motherboard.
New support for Windows 8 fast-boot has been supplied, which ASUS claims allows for consistent boot times of 2-3 seconds with a Solid State Drive, enabled by UEFI bios hand-off optimisations.
Minor changes are an upgrade from Intel's GameFirst LAN controller to GameFirst II, more SATA 6Gb ports and more USB 3.0 ports.
All-in-all, this is the same Crosshair V Formula that we all know and love, only better. Perhaps not an upgrade for existing owners who are comfortable with their current performance, though certainly enticing for those who wish to overclock with AMD. We'd love to get a review out on this board soon.