Today, GIGABYTE entered the history records as being the first firm to launch a range of motherboards featuring fully-certified dual-port Thunderbolt configurations, the GIGABYTE 7 series.

Thunderbolt is one of the latest high-speed interconnects that has caught on thanks to its heavy use in Apple products and, is at last finding its way to various PC motherboards. The standard essentially extends a computer's native PCIe lanes out into the open, offering up to a bidirectional 10Gbps per connector, with the standard also capable of carrying DisplayPort signals down the same connection, for use in compatible monitors, though at a loss of overall bandwidth.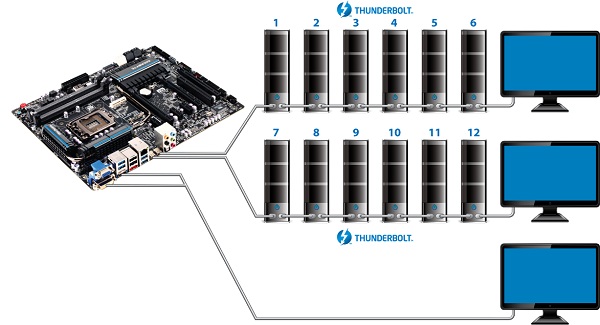 One advantage of Thunderbolt is that it can be daisy-chained. There are few peripheral devices (if any) that can max out a 10Gbps connection, let alone two and so, spreading the bandwidth amongst multiple devices, using a single cable between each, is a tidy way to make the most of what Thunderbolt has to offer. Thanks to Gigabyte's dual-port configuration, it's possible to daisy-chain a total of 12 devices, six per port, along with three displays.
Whilst we always appreciate it when manufacturers attempt to offer us the best I/O possible on their motherboards, Thunderbolt is a bit of a tricky one. For one, when considering storage, only solid-state-based hard disks or an incredible daisy-chain of traditional hard disks running in RAID are capable of coming close to maxing out Thunderbolt, whilst in the meantime, the better adopted USB 3.0 standard is only just beginning to max out on high-end SSDs. Those with heavier storage demands are likely to look to NAS solutions for the flexibility offered and 10Gbps Ethernet isn't too far away from mainstream roll-out.
The primary trouble-point for Thunderbolt, however, is the fact that it's licensed by Intel and its reliance on PCIe. This typically raises the cost of implementing of the standard in comparison to its USB alternative and AMD, for one, appears hell bent on adopting a standard of its own, either the previously introduced Lightening Bolt or, with the backing of an open standard, several of which are beginning to crop up.
That's not to say Thunderbolt is without lasting momentum, however, there is solid peripheral support already in-place and even fibre-optic options available for extending the technology to greater distances. The standard also has the potential to play a significant role in space-limited Ultrabooks in the future. It's something to keep a close eye on, whilst remaining cautious at the same time. Thankfully GIGABYTE offers both USB 3.0 and Thunderbolt, providing users with the best of both worlds and, likewise, there are many peripherals featuring dual-connections, supporting both standards.

Dual Thunderbolt will be launching on the GIGABYTE Z77X-UP5 TH, Z77X-UP4 TH and Z77MX-D3H TH, the latter of which is in the Micro ATX form factor.