The star of CeBIT 2012 is, somewhat awkwardly, a tidal wave of Intel Z77 motherboards. Why exactly is that awkward? Well, the launch of the Z77 chipset is imminent, but the supporting cast of Intel Ivy Bridge CPUs is someway down the road.
We can't reveal exactly when Ivy Bridge CPUs will become available - Intel's increasingly-convoluted NDA being the reason - but we can take a closer look at some of the motherboards that partners will soon begin delivering with the unusual guidance of; buy now, get chip later.
The sheer number of boards on show at CeBIT suggests that retail availability will be plentiful, and there won't be a lack of choice. As you'd expect, ASUS is on hand with some of the most exotic flavours - none more so than the Sabertooth Z77.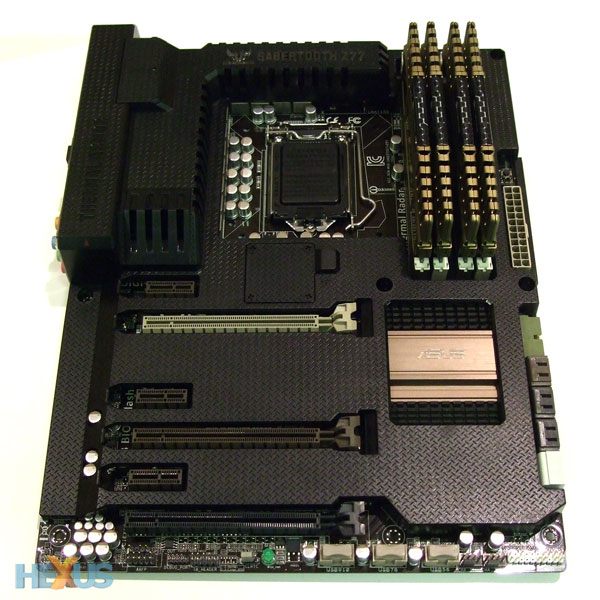 The 'TUF' series board - which stands for The Ultimate Force - takes a Z77 base and adorns it with a Thermal Armor that's designed to efficiently cool all of the board's vital components and consequently increase longevity.
The board-covering shroud certainly provides visual impact, but there are plenty of reasons for it. Two pre-cut fan mounts are installed - one in the centre of the board, one in the rear I/O panel - for the user to provide that extra bit of airflow, and both are configured to keep running a few minutes after shutdown to continue drawing heat away from the board's vital components.
ASUS's on-display sample didn't appear to have all the gubbins available, but we're told that covers - that ASUS cutely calls 'clothes' - will be available for any disused PCIe, memory or USB connectors, to prevent dust from clogging up the ports.
The motherboard will also come equipped with a Lucid Virtu MVP bridging chip that'll make it easy to combine the performance of Intel's IGP with a discrete graphics card, and it does continue to utilise the LGA1155 socket to maintain compatibility with existing Sandy Bridge parts.