MSI had our attention when it teamed up with LucidLogix to bring multi-GPU HYDRA technology to its Big Bang Intel P55-based motherboard, but it looks as though the upcoming board has a few more tricks up its sleeve.
Turns out Big Bang will also be the first motherboard to implement THX TruStudio PC with Creative EAX ADVANCED HD 5.0 audio technology. If those brands don't ring any bells, MSI suggests the technology will deliver "the most powerful and realistic gaming audio performance available from any motherboard".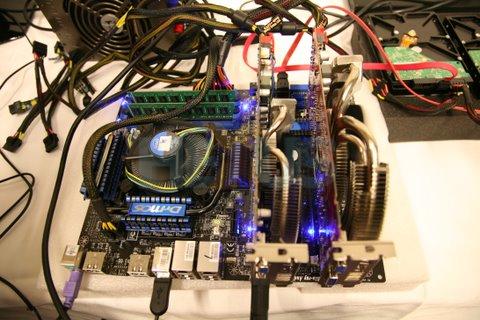 Big Bang, pictured above with both ATI and NVIDIA graphics cards in unison thanks to the on-board LucidLogix Hydra 200 chip, is scheduled to hit stores on October 29th, but pricing details are yet to be announced.
Described as MSI's "new gaming motherboard", we fully expect it to arrive as a premium part, but those hoping for high-end audio quality might be in for a treat with THX TruStudio PC. The technology is the result of a collaborative effort from both THX and Creative and provides the following features:
THX TruStudio PC
The THX TruStudio PC suite of technologies features THX TruStudio PC Surround, THX TruStudio PC Crystalizer, THX TruStudio PC Speaker, THX TruStudio PC Dialog Plus and THX TruStudio PC Smart Volume.


THX TruStudio PC Surround
THX TruStudio PC Surround provides immersion control to enhance the natural sense of audio depth and spaciousness by creating virtual surround sound channels. Stereo content or multi-channel content played over stereo speakers and headphones will sound as if it's coming from all sides while voices remain centered in front and original balance and timbre is preserved.


THX TruStudio PC Crystalizer
THX TruStudio PC Crystalizer restores the natural dynamic range that is lost when iTunes and MP3 music gets compressed. This makes the music sounds as good as the artist originally intended, and adds an enhanced level of realism for movies and games.


THX TruStudio PC Speaker
THX TruStudio PC Speaker fills in the missing low frequency tones and gives the extra impact for a better entertainment experience. Consumers no longer have to tolerate lack of bass in speakers built into notebook PCs, 2.0 speakers or headphones, as THX TruStudio PC Speaker technology dramatically improves the sound experience without a subwoofer.


THX TruStudio PC Dialog Plus
THX TruStudio PC Dialog Plus enhances the voices in movies for clearer dialog, allowing the listener to hear the dialog over the rest of the soundtrack and over ambient noise in the listening environment.


THX TruStudio PC Smart Volume
THX TruStudio PC Smart Volume addresses the problem of abrupt volume level changes during playback and between songs by automatically and continuously measuring volume, and intelligently applying gain and attenuation to compensate for those changes.
Stay tuned as we'll be taking a closer look at MSI's Big Bang motherboard later this month.