Netburst is nearly dead!

Opening IDF today Intel's CEO Paul Ottelini told Developers, Partners, Press and Analysts about their new Architecture.

Currently Intel have Netburst and Mobile Microarchitecture- today they are talking about the next generation microarchitecture.

In the 2nd Half Q2. They will have Woodcrest for Servers, Conroe for Desktop and Merom for Laptops. Intel will have for the first time a single, and consistent platform for developers to work on.

They will have a common 64bit, LT (Security), VT (Virtualization), IAMT (Management). This makes it easy to have applications to run across all of the platforms.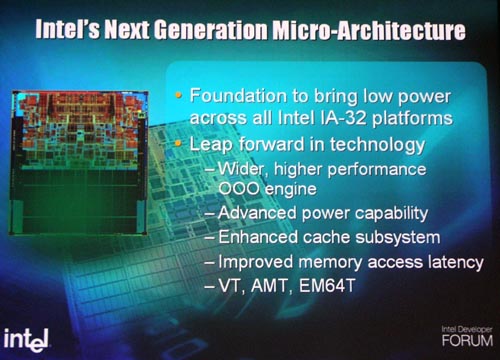 Intel did a live demonstration of the Merom platform running on a notebook. Controe was running Defora Linux 64. They also showed Woodcrest, their server configuration running in DP. This is 2 CPUs, but with 2 cores.

This is the first public showing of this. Merom will give 3X performance per Watt over the Banias chip. Woodcrest gave a 3X performance increase over Nocona.

Intel also have in house, Yonah for Desktop, Presler for Desktop, Dempsey. All of the new cores are running on a 65nm manufacturing process.

Intel are making wild moves on the maximum sustationed power usage.

The Handtop, with a 5" Screen, Always connected with WIFI, and WiMAX, running at .5W The Power for other platforms is: 5W Notebooks, 65W Desktops and 89W Servers.

If you decrease the power by 10X you can increase the performance with in the same thermal and power envelopes.