The Acer Aspire R7 turned heads when it was released earlier this year and won some geeky fans thanks to its Star Trek associations. Today Acer has announced an update to this futuristically designed 'Ezel hinged' multi-mode computer with an Intel Haswell processor and active screen digitizer being the highlights. Also as a new laptop this machine, the Aspire R7-572, now ships with Windows 8.1.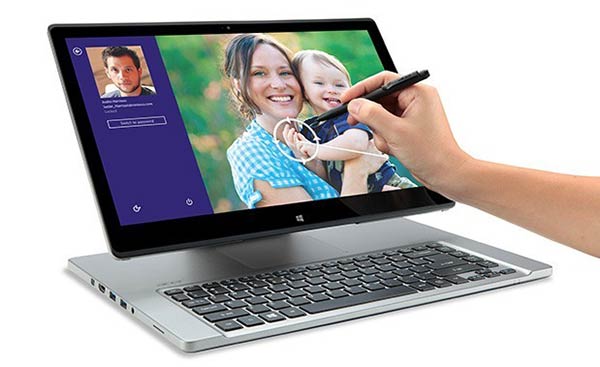 This second generation Aspire R7 still allows user to flip and turn the device into different modes via its experimental 'Ezel' screen hinge. With the added digitiser in the touchscreen, the new model allows users to work with an optional Acer active stylus. The stylus comes in handy for users who are looking for more options to increase productivity and creativity on the uniquely mounted 15.6-inch display.
A new set of apps called Acer Touch Tools also makes the touchscreen more useful than ever. The stylus software suite includes:
MemoryBinder: a kind of scrapbooking app
Screen Grasp: an image clipboard
Scrapboard: a web image erm... scrapboard
AccuFinger: to help fat fingers select and manipulate small on screen elements
Acer gives us some details about the tech behind the active stylus. The systems maker says it uses electromagnetic induction technology. "It provides high accuracy, hover capabilities for precise system control, rapid refresh to accurately capture ink subtleties, 256 distinct levels of pressure sensitivity for more exact control and input, and advanced palm rejection capabilities for natural and intuitive computing experience," says Acer. The stylus also has interchangeable nibs and configurable side buttons.

The Aspire R7-572 is also updated with Intel Wireless Display technology (WiDi), 8GB of memory and a 1TB hard drive. The new Haswell CPU provides a much better battery life; up to 6.5 hours compared to the original Aspire R7 which only ran for 4 hours in battery life tests.
Although the external design remains the same, there are a lot of respectable internal upgrades. "The new R7-572 builds upon the unique design of the first generation model, bringing more options and greater functionality to our R7 customers." said Sumit Agnihotry, vice president, product marketing, Acer America. It has definitely taken a large step in the right direction with the better battery life and active stylus options. A full list of tech specs can be found here.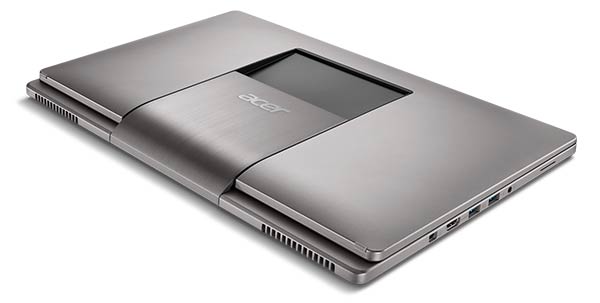 The new version of the Aspire R7 with the updates mentioned above, more base memory and a double sized HDD also comes with a price cut, down by $100, to US$899. We always like to see products that are new and improved with a keener price tag attached. Availability starts in US based Best Buy Stores early December.