Toshiba UK has unveiled updated models in its laptop line-up powered by the new Intel Haswell and AMD Richland processors. Toshiba says the Satellite U and M series are "ideal for anyone wanting a thin and feature-rich laptop at an affordable price". All the new models are said to offer high performance in a sleek laptop chassis design. Meanwhile on the other side of the pond Toshiba US has unveiled new similarly updated Satellite E45t and E55t/E55Dt models. These are aluminium cased ultrathin PC with "intuitive touchscreen and voice controls".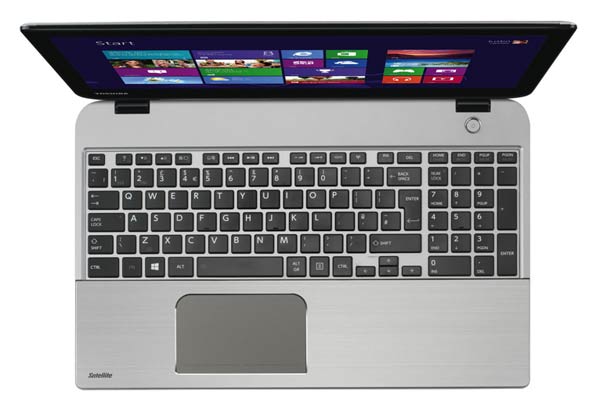 Toshiba UK's new Satellite U and M series laptops
Toshiba has created its first Ultrabook with a 15.6-inch screen in the shape of the Satellite U50t. This new Ultrabook comes equipped with a 10-point touchscreen to make the most of Windows 8's new finger friendly interface. The U50t features a Haswell processor and Intel HD Graphics 4400. It also boasts a bright and colourful screen and long battery life for truly mobile computing. The Satellite U50t weighs in a 2.3Kg and measures 377.5 x 249.5 x 21.3mm.
The Toshiba Satellite M series are 15.6-inch laptops and consist of the Intel powered M50 and the AMD powered M50D models, while an extra suffix of 't' on the model name denotes a touchscreen enabled version of these (i.e. Satellite M50t and Satellite M50Dt ).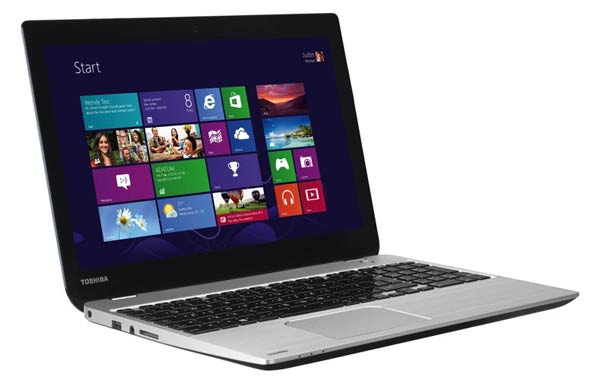 The Intel versions of the Satellite M series use the latest 4th generation Core processors paired with Nvidia GeForce GT 740M graphics with 2GB VRAM and using Optimus technology, the AMD versions use AMD's latest APU solutions. These laptops weigh as little as 2.1Kg and measure 377.5 x 249.5 x 21.3mm.
All the above new Toshiba laptop models support up to 16GB of RAM, feature a full-size HDMI port, HD webcam with stereo microphone, Wi-Fi (802.11 b/g/n), Gigabit Ethernet, Bluetooth 4.0, an SD card slot, a pair of USB 3.0 port and a USB 2.0 port.
These new Toshibas will be available during Q3 2013, pricing details are not yet available.
Toshiba US's expanded range of Satellite E laptop models
Toshiba USA has expanded its portfolio of ultrathin laptops with the new 14-inch Satellite E45t and 15.6-inch Satellite E55t/E55Dt models. These are ultra-thin laptops featuring "the latest technologies and intuitive touchscreen and voice controls" and are suitable for both productivity and entertainment.
"Our expanding line of ultrathins is designed to be more accessible to consumer looking for a thinner, more stylish PC that delivers the same class of performance and features as a traditional laptop—at a price point that is competitive with a traditional laptop," said Carl Pinto, vice president of marketing, Toshiba America.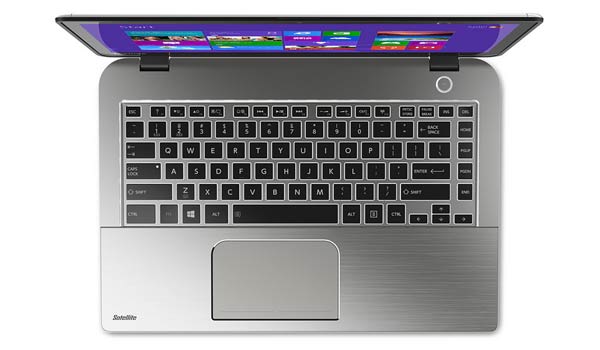 The E series all feature a brushed aluminium finish, are less than an inch thick and feature reinforced LED backlit keyboards. If you opt for one of the 15-inch models the keyboard will include a numeric keypad.
Models suffixed by a 't' (e.g. the Toshiba Satellite E45t) as in the UK, are touch-enabled. Toshiba has also got together with Nuance to bundle Dragon Assistant with these machines. "Simply speaking, "Hello Dragon," launches the assistant and allows people to search the Web, find content on their laptop, play music and movies, check and reply to email, update Facebook and Twitter, make Skype™ calls and even shut down, restart or put the laptop to sleep." A nice extra if you get on with voice interactivity.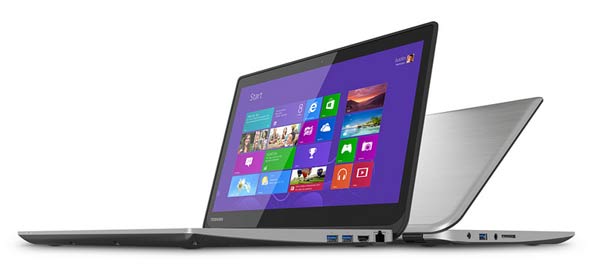 Looking at the hardware inside these new laptops, it is quite variable and configurable. You have a choice of the latest Intel and AMD processors and fixed storage options for HDDs between 500GB and 750GB. Battery life will be upwards of seven hours on all the models says Toshiba. Turning to standard ports and connections "feature all the essential ports, including HDMI®, Ethernet, SD Card slots and two USB 3.0 ports6, one with USB Sleep & Charge7, and one USB 2.0 port." Some systems will feature dual-band Wi-Fi and DTS sound.
Toshiba's 14-inch Satellite E45t will be available early in August with the larger screened models following in September. Pricing is yet to be announced.