A new Samsung Series 9 Premium Ultrabook (NP900X3E-A03US) has been announced. The Series 9 Ultrabooks were launched nine months ago and the 13.3-inch screened model had a resolution of 1600x900 pixels. Now there's a new Series 9 Ultrabook joining the clan with a 13.3-inch screen offering a 1920x1080 pixel display. This latest edition's LED-backlit HD display offers "up to 40 per cent more screen content" than the previously released 13.3-inch offering.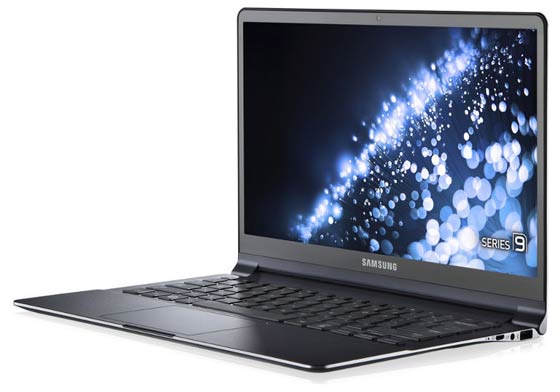 The new laptop doesn't replace the previous 13.3-inch Series 9 model but complements it, or even sits above it, in Samsung's offerings. Samsung describes it as "the ultimate, ultraportable PC for mobile professionals as one of the thinnest and lightest ultrabooks on the market". To make the screen more readable in bright lighting conditions the screen also features "SuperBright™ technology, up to 50 percent brighter than standard laptop screens, for more vivid colors". However Samsung has not taken this opportunity to introduce a touch-enabled screen to its Series 9 Ultrabooks.
Series 9 Premium Ultrabook NP900X3E-A03US specifications
Category

Details

Series 9 NP900X3E-A03US

Display

Size

13.3"

Resolution

LED Full HD (1920x1080)

Battery Life

Battery Life*

Up to 8 hours

Dimensions

Dimensions

12.35" x 8.60 x 0.51"

Weight

2.56 lbs.

Color

Black

Performance

Operating System

Windows 8 Pro

Processor

Intel® Core™ i7-3517U

Graphics

Intel® HD Graphics 4000

System Memory**

4GB

Hard Disk Drive (Max.)**

256GB SSD

Mobile Broadband

Mobile Broadband

N/A

I/O Ports

USB Ports

1 x USB 3.0, 1 x USB 2.0
Samsung reminds us of the staying power of the Series 9 Ultrabooks, which is enhanced by "an advanced Lithium-Polyester battery for a lifespan up to 1,500 cycles, extending the product's lifespan up to three times longer than a conventional battery". The price of the new NP900X3E-A03US is expected to be $1,899 and will be available in retail within weeks.
Samsung's latest and greatest might be quite an improvement, with 40 per cent more screen real estate, but it's still not approaching the likes of the MacBook Pro's 2,560x1,600 Retina display, or the Google Pixel's 2,560x1,700 resolution screen. This is rather surprising as, in the mobile arena, Samsung are very much at the forefront of the pixel density race in competition with Apple and Google hardware (among others).